The Poverty Rate Is Decreasing, And Here's Why
by Colleen Dilthey Thomas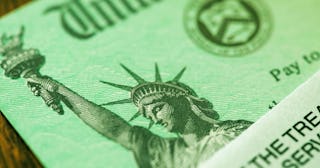 Scary Mommy and Feverpitched/Getty
As the pandemic surged and our country was on the verge of another Great Depression, stimulus checks and increased unemployment benefits brought millions of Americans above the poverty line in 2020. According to the U.S. Census Bureau, the poverty rate dropped to 9.1% in 2020, down from 11.8% in 2019, according to The Washington Post. These payments lifted millions of Americans above the poverty line, which is defined as less than $26,250 for a family of four.
These figures are taken from the Supplemental Poverty Measure; this includes pretax income, and the value of benefits such as Supplemental Nutrition Assistance Program, school lunch programs, housing assistance, stimulus payments and tax credits. According to a statement from the Census Bureau, highlights of the SPM include:
The most important antipoverty program was Social Security, moving 26.5 million Americans out of poverty
Changes in unemployment benefits prevented 5.5 million individuals from falling into poverty
7 million Americans were moved out of poverty due to stimulus payments that were enacted as part of the COVID-19 economic relief legislation
"The federal government responded quickly and significantly. And it's very clear that those efforts prevented a sharp rise in poverty," James Sullivan, an economics professor at the University of Notre Dame, told The Post. "The concern is that we would see poverty rise again because we've now seen these relief packages expire."
According to The Washington Post, with government aid, poverty declined across the board in all age groups, racial and ethnic groups and educational levels. Homes led by single mothers saw some of the sharpest declines, as did Black and Hispanic households, as well as those without a high school diploma.
"This is a really phenomenal result'" said Elaine Waxman, a senior fellow at the Urban Institute told the Post. "But a lot of the aid that made a difference, including for families with children, won't be extended."
While this may be true, there are other means of hope on the horizon.
"A lack of family-friendly policies, such as paid family and medical leave for when a worker need time to care for a new child, a seriously ill family member, or recover from their own serious illness, has been identified as a key reason for the U.S. decline in competitiveness," The White House said in a statement.
The American Families Act will help with things like offering four years of free education; including two years of free preschool/pre-k and two years of community college, extended tax credits for working families, and offering paid leave for families who are caring for a newborn child, a loved one, or several other family circumstances.
There are other areas of concern, namely median income and the uninsured. According to Census Data due to massive job loss, the median income of American families dropped 2.9% to $67,521. In addition, the uninsured grew to 28 million, up close to 2 million from 2019. The number of uninsured has increased steadily throughout the last four years.
Among the uninsured were 4.3 million children under the age of 19, who were without insurance for the entire calendar year of 2020.
"While this was not statistically different from the percentage of children who were uninsured in 2018, a closer analysis reveals that the changes in uninsured status between 2018 and 2020 affected children in poverty more than those living above the poverty level," according to Census.gov
So what does it all mean? It is pretty clear. The economic stimulus, tax credits, and increased unemployment benefits had a profound effect on many American families. Not to mention free lunch programs that have been increased during the pandemic, helping those with food insecurity to have more peace of mind. It helped millions from falling below the poverty line and helped them to stay on their feet.
It is always our hope that we will be able to provide for the greater good of society and meet the needs of the people. The current Administration is making policy changes that will help to make that happen.
By increasing the aid given to our families, we will be able to better meet their needs and help them to stay above poverty levels. If it is possible to decrease poverty during a pandemic year with aid, it is certainly possible to maintain those positive results by enacting new measures designed specifically to help families with children.
According to Urban.org, things are looking good for poverty rates in 2021.
"We now project a 2021 poverty rate of 7.7 percent for 2021. The revised projection accounts for improvements in the economy, incorporates updated state-level information on pandemic-related policies, and improves the method for weighting the data to reflect 2021."
This article was originally published on