'The President Stole Your Land': Patagonia, REI Blast Trump With New Ads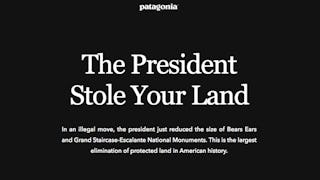 Image via Patagonia
Donald Trump's historic cuts to federal public lands aren't coming without a fight
Because the world isn't terrible enough, on Monday, Donald Trump cut the size of two national monuments in Utah by a combined two million acres, according to the New York Times, marking the largest decrease in federal land protections in U.S. history. The move potentially opens up the formerly protected public land to private interests, including oil and gas extraction, mining and logging.
The cuts are happening at Bear Ears National Monument and Grand Staircase-Escalante, two areas rich in both natural resources and stunning scenery, which have been protected from private development by protections put in place by Trump's Democratic predecessors. And both areas clearly deserved that protection, because look at them:
But outdoors enthusiasts aren't letting this happen without a fight. Major outdoors retailers are clapping back against Trump's move, which they say was illegal, by guiding their customers to resources that will help fight the public land cuts.
Visitors to Patagonia's website are now greeted by this screen on the home page:
And visitors to REI's website now see this:
These are bold political statements for private businesses to make, but considering their customer bases, and the stake that avid outdoorspeople have in public lands, it's probably a smart move. Both sites go on to provide information on Trump's cuts and links to resources their customers can use to help fight the move.
Patagonia cites a few reports that say when control of public lands goes to states, the land is more often than not sold off to private interests.
"History shows that when the federal government grants, sells or otherwise gifts federal land to states, 70 percent of the land is sold to private interests, jeopardizing public access," the site says. "Shutting down a national monument, or any major portion of a national monument, could have a devastating impact on local economies and the multibillion-dollar outdoor recreation economy that America's public lands and waterways support. Public lands host 71 percent of climbers, 70 percent of hunters and 43 percent of paddlers in America, and they also contain nearly 200,000 miles of hiking trails and 13,000 miles of mountain biking trails."
REI released a statement saying the move is in direct opposition to what constituents asked for: more protection for public lands.
"This decision follows the Administration's hasty, four-month review (from April to August) of 27 national monuments designated during the last two decades. As part of the monuments review, more than 2.8 million Americans submitted comments, with over 99 percent in favor of protecting them," the statement reads. "Those voices have fallen on deaf ears."
They're not the only ones who are fighting Trump's move. Representatives from five Native American tribes, including the Navajo, Hopi, Pueblo of Zuni, Ute Mountain and Ute Indian, have threatened to sue the Trump administration, according to Reuters.
Considering the volume of comments against the proposed cuts, there's no question about one thing: This fight is just beginning.
This article was originally published on