Why You Need To Be Watching The New "Queer Eye"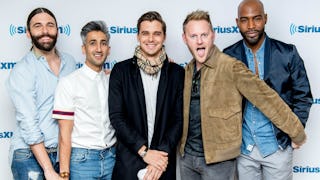 Roy Rochlin / Contributor / Getty Images
I admit, I was hesitant to watch Netflix's reboot of Queer Eye. I was a teenager when the original aired, and since I wasn't a fan, I didn't think I'd like the new one either. But, I have no problem admitting when I'm wrong about a TV show, and — wow! — was I ever wrong.
This new version is very much it's own entity; while it can obviously exist in the same world with the original, it marches to the beat of its own drum. It is the perfect, feel good, heartwarming show we need today.
One of the lines said during the opening sequence of the show is, "The original show was fighting for tolerance, we're fighting for acceptance." Amen to that.
None of these crew play up their personalities for the sake of fitting into any sort of stereotypes about what straight people may have believed about gay men. Granted, 2003 was a much different place than 2018 is. Gay culture had only stood on the doorstep of pop culture, and mainly through shows like "Ellen" and '"Will and Grace." We have moved forward (thank god!), and gay culture has now busted through the front door.
In the fight for acceptance, they have chosen five men who are never once made to fit into a gay stereotype. They're just young, fun men who are gay. Of course, there are a ton of "YAS QUEEN" and snaps and snark, but it feels like you're watching a show your gay bestie is hosting. It's so easy to get sucked in by their affable, warm personalities and very quickly pick your favorite(s).
There's Bobby Berk, the design expert, who literally makes us weep with his revamped decor. Jonathan Van Ness, the grooming expert, and my personal fave. Antoni Porowski, the food expert, who focuses on simplicity and everyday cuisine. Karamo Brown, the culture expert, who is a former Real World participant. And Tan France, the clothing expert, who makes everyone shine in an understated kind of way.
By the end of the eight episodes, you are just as attached to each of them as they are to each other. It is clear that the Fab Five genuinely care about each other, and take what they're doing very seriously. As they've said, they're looking to gain acceptance for who they are as proud gay men, but also just as men who live in America in 2018.
In this iteration, you learn far more about the Fab Five than in the previous show, and those personal reveals about them (Bobby and Tan are both married, and Karamo has two sons, for instance) make it so much more than just a makeover show, and gives each episode more depth and heart.
Unlike, the original Queer Eye, which took place in New York City, this one takes place in Georgia. Five of the eight episodes feature cis-heterosexual white men who all seem to identify as Christian. It was surprising that they would send five gay men into the heart of the South, especially when two of the hosts are men of color — Tan is half Pakistani, and Karamo is black. But if the underlying theme of the show is acceptance, then it is the perfect place to start.
The Fab Five has said that their goal is find the things that make them the same as the men they're making over in this show, and to not constantly dwell on the differences. It's not that those differences don't come up, because they surely do. But they're handled in such a beautiful, honest way.
The episode that stood out to me, as a black woman, was the episode where the Fab Five make over a white man who happens to be a cop. The episode opens with his friend and nominator, who is also a cop, pulling over the guys while Karamo is driving. My heart seized because we know what could happen to a black man being pulled over by the cops, especially in the South. We know black people and cops don't generally have the most peaceful relationship. Without giving too much away, there is a beautiful moment of understanding between Karamo and Cory, the cop that healed some of Karamo's soul, which also gave me a small amount of peace of mind.
There was also a really beautiful moment between Bobby and another one of the men being made over, who very much identified as a Christian. Bobby, having grown up very religious and a part of the church, opened up about what it was like for him growing up in such a religious atmosphere, knowing that he was gay. The man, who was admittedly deeply religious, made it very clear that, though many hypocritical Christians may condemn Bobby and his lifestyle, he never would, and Bobby was very much loved and welcomed by the family. Even if gay men are still largely unaccepted in the South, there are at least five men and their friends and family who now feel differently.
You definitely need tissues while you watch Queer Eye, and many of them for episode four. I'm not giving much away, but the episode's subject, AJ, is a young black man who is still living much of his life in the closet. His coming out was a tear-jerker, and that's all I'm saying. Seeing a bond and kinship develop between him and all the Fab Five, but especially Karamo, is just…beyond. My heart is still swelling about it.
In a world where things are generally so shitty and uncertain, Queer Eye is a much-needed bright spot. This is so much bigger than a makeover show; these five men are uplifting other men and transforming them, not only on the outside, but very much on the inside. They do it with heart, and with humor, and with a brutal honesty that you just don't often see on reality television.
Watch it now. Seriously.
Go on, what are you waiting for?