Video Of The Rock & Danny DeVito Crashing A Wedding Will Absolutely Make Your Day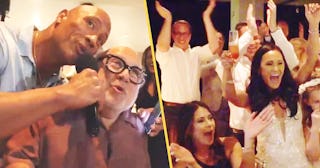 The Rock/Instagram
The Rock and Danny DeVito made one couple's wedding a lot more memorable by stopping to serenade them at their reception
Forget Owen Wilson and Vince Vaughn — the real wedding crashers of note are a somewhat surprising pair. Jumanji: The Next Level costars Dwayne "The Rock" Johnson and Danny DeVito were in Cabo San Lucas, Mexico doing press for their new film when they decided to pop over to a wedding happening nearby. And boy, are we glad they did.
"I've never crashed a wedding, but with Devito this was truly UNFORGETTABLE," Johnson captioned the video shared to his Instagram account.
He gave a little background first. "We were sippin' on a lil' Teremana tequila 🥃 enjoyin' the quiet sunset together in Mexico after a long week of Jumanji work when this idea hit," he writes. "Crash the wedding. Grab a mic. Sing a special song. Say adios."
And that's exactly what the pair did. Johnson entered the reception crooning Nat King Cole's "Unforgettable" (side note: did we know The Rock can sing? Just add it to the already-long list of his talents). He did the first few lines before handing over the mic to DeVito, who also killed it. The best part was seeing the bride, groom, their kids, and all the guests totally losing their minds that these two stars were actually there, performing right in front of them.
Also, it sounds like the costars got to know the newlyweds a little bit after their surprise song. "It was actually quite beautiful and the love and mana in that room surrounding the wedding couple was so strong. Congratulations to the lovey bride, Kristine and handsome groom, Will. And their four children, Ryan, Mason, Edie & Max. Beautiful family. The Abbots aka Brady Bunch."
Why is The Rock the best guy in the world? We demand answers.
If you've been paying attention the Johnson's Instagram account in recent weeks, you'd know he's been on the promotional junket for the second installment of the Jumanji franchise. The actor's sharing hilarious videos of his interviews with costar Kevin Hart, including this absolute gem from last week where Hart loses his shit at the sight of a butterfly. All bug-phobic folks felt it deep in their bones.
The whole tour looks like an absolute blast and we wish we'd been invited.
So, once the Jumanji tour ends, can The Rock and Danny DeVito go on a wedding crashing tour? The world could definitely use it.
This article was originally published on