The Rock Teaches His Daughter To Wash Her Hands Using 'Moana' Song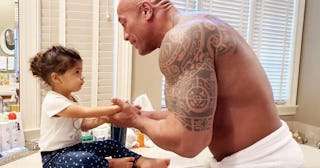 The Rock/Instagram
Get ready for your heart to explode watching The Rock in his bath towel teaching his daughter to wash her hands to a Moana tune
As the world shelters in place and coronavirus continues its spread, we're all home with our kids and just trying to make it day by day. We need cheering up sometimes (ok, a lot of the time) and tons of celebs have been coming through for us with entertaining and inspiring posts to help us pass the hours. This week's best? I'm gonna go with Dwayne "The Rock" Johnson in his bath towel teaching his ridiculously cute daughter to wash her hands using a Moana tune.
"Our sheltering at home, pre daddy's shower ritual," he writes. "Before my showers now, Baby Tia (mama mia) demands I sing the rap portion of my song 'You're Welcome' from MOANA, while I wash her hands," he says. Turns out, that part of the song is perfectly suited time-wise to wash your hands thoroughly. You're welcome, parents.
"We realized a few weeks ago that the rap portion of the song is perfect timing when getting your little ones to have fun washing their hands," he writes. He also notes that Tia has had about enough of her dad and just wants to hear the song, darn it. "And gotta love how at the start of this vid, baby Tia is like, 'just shut your mouth and sing daddy,'" he says.
He even rewords the lyrics a tad to tell coronavirus to go away and wraps up by coaching adorable Tia to tell his fans to "stay healthy" and "stay safe."
Honestly, this video is too cute for words. The Rock in his towel just adds that little extra something. Of course, Johnson being adorable with his daughters is nothing new, but seeing this sweet scene play out is extra nice during a time when our social media feeds are largely pretty bleak.
Happily, he's far from the only famous person putting out that positive content that we so badly need right now. Pink has been an absolute gem since we all started quarantining, sharing her family's schedule, her tendency to block things out by rage-cooking, and her drunken home haircut gone-wrong.
https://www.instagram.com/p/B-IntajJ-Mb/
Then, there's Ellen. We really don't need to say much more, just look at her hilarious posts about trying to do puzzles, cold-calling celeb friends, and reading a super boring home decor book to quarantined kiddos. Her Insta lately is comic gold when we need it most.
As the weeks and maybe even months of sheltering in place drag on, it's nice to know that our fave celebs are still there for us, bringing a smile where it might've otherwise been hard to find.
This article was originally published on