The Rock Was Late For Work So His Daughter Could Give Him A Manicure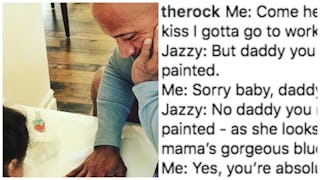 Image via Instagram/The Rock
The Rock dropped everything to let his daughter paint his nails, as you do
Dwayne "The Rock" Johnson is an actor, producer, former wrestler, and a man of the people in that he is constantly giving the people what they want: proof that he's a great partner and dad. His latest Instagram post is no exception, as he shows just how much of a sucker he is for his little girl. And we love him for it.
In the photo, he's sitting with his older daughter, Jasmine, as she paints her daddy's nails. And listen, when your adorable little girl tells you she wants to give you a manicure — you drop literally everything you're doing and let that little angel give you a damn manicure.
He captioned the exchange, which went a little something like this (and is no doubt a familiar exchange to anyone with a toddler at home).
"Me: Come here baby, give daddy a kiss I gotta go to work.
Jazzy: But daddy you need your nails painted.Me: Sorry baby, daddy's gotta go to wor Jazzy: No daddy you really need your nails painted – as she looks up at me with her mama's gorgeous blue eyes. Me: Yes, you're absolutely right – daddy needs his nails painted."
Toddlers do not care about "work." They don't understand the correlation between Mommy/Daddy needing a job to ensure they have food, clothes, toys, etc. They just know when they want to do something with you, you'd better be free to do it. And really, who can blame them?
The fact that he capped off the post with #PapaBearPriorities and #NoRemoverNeeded just solidified him as one of our favorite celebrity parents of all time. Though how could he not top the list? Especially after this photo of him feeding Lauren Hashian, his partner and mother of his girls so she could breastfeed their baby.
Look, I'm not normally into praising dads for doing things they should just always be doing as parents. But there's nothing wrong with enjoying the sight of a tall, sexy, talented, kind man being good to his girlfriend and children. He's setting a great example of what fatherhood looks like, with not a hint of toxic masculinity in any of it.
Also? It's kind of a turn-on. In short, cis men have PornHub. Everyone else has this.
https://www.instagram.com/p/Bm94MfEFc84/?utm_source=ig_embed
He's a lucky man, as are all the girls in his life.
Okay, this has been part of our regularly scheduled We Love The Rock content. Thank you for joining, and we'll see you next time.