The Rock Posts Sweet Tributes To All 3 Of His Daughters For Women's Day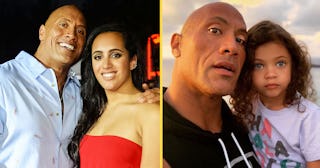 Jason Koerner/Getty and The Rock/Instagram
The Rock always gets it right on International Women's Day
In my next life, I want to come back as Dwayne "The Rock" Johnson's daughter. When it comes to raising girls, the guy is a champ, and his posts for his three daughters on International Women's Day are the perfect example of his spectacular girl-dadding.
He kicked things off for his day of honoring his little ladies by shouting out oldest daughter Simone, who recently signed on to join the WWE, just like her dad. "Respect the ground you walk, protect the name you carry and blaze your own @wwenxt @wwe path. Proud of you and as you go down the road, I'll always have your back," he writes.
He is the cutest proud daddy ever, and we're extremely here for his public gushing about Simone's talent and bright future. It must feel amazing having a dad who backs her like this along with reminding her publicly on International Women's just how much support she always has from him.
Next up? Middle daughter Jasmine, aka Jazzy. "Pōmaikaʻi. Blessed, strong and the world will hear from you one day," he wrote alongside a legit breathtaking photo of the dad and daughter.
Last but not least, he posted a sweet video with youngest daughter Tiana, who turns two next month. He had the little one repeat a series of girl power mantras reminding her that she's pretty, smart, and awesome. Johnson wrapped up by trying to get little Tiana to say "Daddy's the best," and she did, but immediately followed up with "MOTHER!" The Rock may be the best girl dad, but it's clear this sweet baby is a momma's girl.
This is far from the first time The Rock went full feminist dad in posting about his girls on Insta. He shared a sweet girl power post dedicated to Jazzy on Women's Equality Day in 2018. "She can be anything she wants. She can sit at any table. She can trailblaze a path, while humbly and gratefully recognizing those before her who paved the way. She and her big sister, Simone and her baby sister, Tiana Gia will always have a strong voice and always make a positive impact," he writes.
The Rock should host training sessions for other dads so they can learn to back up their daughters the way he backs up Simone, Jasmine, and Tiana. Because every girl deserves it.