The Rock's #CheatDay Posts Will Give You Life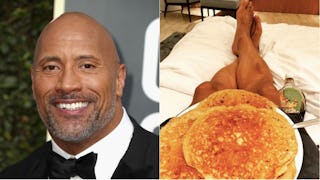 Image via Frederick M. Brown/Stringer/Getty Images/Instagram/Dwayne Johnson
Dwayne "The Rock" Johnson will inspire you with his #CheatDay food posts
It's no secret that Dwayne "The Rock" Johnson is one of our favorite celebrity dads. The way he talks about his daughters is the sweetest and the adorable photos he shares give us life. But you know what else he posts that gets our hearts racing?
His diet "cheat day" photos.
Johnson is obviously super into his fitness routine (drool) but everyone deserves a cheat day now and then, and let me tell you, this man does not half-ass it on days where his diet is shoved aside. He revels in the unchecked sugar and caloric intake of the occasional day off from his (probably usually strict) menu by eating all the pancakes he can get into his belly.
So. Many. Pancakes.
He thinks big.
We really can't emphasize enough how much this man loves pancakes while binge-watching either documentaries or his favorite shows. It's pretty adorable.
Cheat day is more or less his religion, and we're so here for it.
Also, no one can argue with the results.
The best part of his pancake obsession is that Johnson doesn't mess around when it comes to toppings. He gets kinda food porn-y in his descriptions. "Cue the music," he writes. "The stuff on the right, I'm gonna smear all over the warm circular stuff in the middle. Then I'll take the stuff on the left and drizzle it all over the circular stuff in the middle that has the stuff from the right smeared all over it."
We're getting a little hot over here, Dwayne. And it's not just because of your mesmerizing pecs.
But he doesn't stop at pancakes, y'all. The Jumanji star will happily gobble down a platter of cookies too. Like, an entire platter.
He also enjoys a nice, juicy steak with all the sides if sweets aren't your thing.
Basically, The Rock is our cheat day life coach and we need to follow his lead. No eating plan will be successful in the longterm if you don't enjoy yourself now and then, and if you're going to go for it, you should GO FOR IT. Johnson's stacks of pancakes and mouth-watering steaks should serve as our inspiration to take cheat day as seriously as we take our day-to-day efforts to eat healthy.
Because we're worth it.
This article was originally published on