The Rock Holding His Baby Girls Will Make Your Ovaries Explode
by Julie Scagell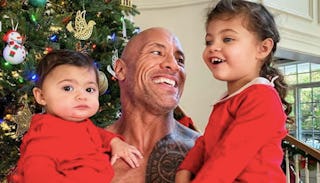 Image via Instagram/The Rock
The Rock is one seriously happy dad
It's no secret we love everything about Dwayne "The Rock" Johnson. We adore him in movies, swoon over his public displays affection towards his wife, and…well…there's his muscles. But it's his role as father we are here for the most, including his most recent post about his baby girls.
"I ain't gonna be able to hold 'em like this forever, so you better believe I snatch these cookies and love 'em up every moment I can," Johnson posted on his Instagram page, holding Holding eight-month-old Tiana and three-year-old Jasmine. "Plus, I know there's gonna come a day where in daddy's arms is the last place they want to be."
https://www.instagram.com/p/Br6SWZ0hY18/?utm_source=ig_embed
Excuse us while we cry ugly tears.
Johnson is dad to three beautiful girls, but it's his younger ones he's holding on to tightest, because he knows just how fast the time goes. "Can't guarantee I'll love and protect all my daughters for the rest of their lives, but I can guarantee I will for the rest of mine," he continued.
Just a few days earlier, he posted an adorable Christmas video of Jasmine, saying, "Simply put, I live for movements like this and I'm one lucky SOB to make them happen. Wait til' Jazzy sees the surprise carousel that's waiting in the backyard."
In addition to the holidays, Johnson is a sucker for getting his makeup and nails done by his girls, always making time to get pampered before hitting the gym.
As an actor, producer, former wrestler, and all-around "hardest working man in showbiz," we love that he makes time to be with all his girls — and posts these adorable pics so we can all gush over them too.
May they continue forever.