The Rock Posts Special Message For 3-Year-Old 'Moana' Fan Battling Illness
by Julie Scagell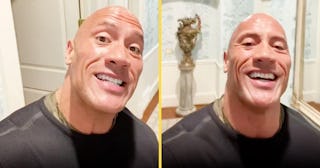 The Rock/Instagram
Johnson sings to the little boy and tells him to keep fighting
Dwayne "The Rock" Johnson shared a touching video of himself singing the song, "You're Welcome" from the 2016 Disney hit movie Moana — in which the actor voiced the character Maui — for a three-year-old who is battling an unnamed illness.
Johnson posted the video for the boy, sending him a message of hope and thanking him for being a fan of Moana. "To a VERY special and strong 3yr old lil' boy, Aiden Snyder," the actor wrote along side the video message. "I found out that lil' Aiden LOVES, my character "Maui" from MOANA, and Maui has gotten him thru many treatments, clinic sessions and hospital visits."
He talks to Snyder for a bit trying to explain to the little guy that he is, in fact, Maui even though he may not look like the character in the movie or have as good a singing voice. Johnson even manages to get a dig in on Kevin Hart (because, of course he does) before breaking out in song. When he's done, he says in part, "Thank you for being a fan of Moana and Maui… now I'm your biggest fan (literally probably your biggest fan)."
This isn't the first time Johnson has reached out to one of his young followers who need a boost. Last year, he posted a similar video to a little boy who is battling leukemia and is also a big Maui fan. That three-year-old was, according to Johnson, "doing his best to stay strong — by watching Moana up to 10xs a day because the character he loves, Maui, makes him feel strong."
He also recently posted an adorable video of himself and daughter Tia singing the same song as she washes her hands properly.
"These are tough times we're in, but this boy's struggles and fight has a way of putting things into perspective for all of us," Johnson continued in his video to Snyder. "Sending so much love and strength to Aiden's mommy and daddy, Dan and Natalie Snyder in Philadelphia."
I cannot fathom watching your child suffer from an illness and spending time in hospitals and clinics instead of parks and beaches. Nothing can take away their pain but having someone like Johnson respond back to them and send a personal message to their son hopefully brought a moment of happiness amid the worry.
Johnson finishes up his message to Snyder by writing, "Stay strong, Aiden and remember… you're way more powerful and awesome than I will ever be." Here's hoping this brought a big smile to little Aiden's face.
This article was originally published on