The Rock Surprises Mom With 'Willy Wonka's Golden Ticket' And It's Everything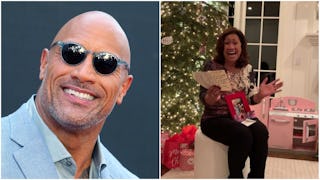 Image via Jim Spellman/Getty/The Rock/Instagram
The Rock bought his mom a new house for Christmas and everyone is crying
Need reason one million and one to fall head over heels in love with The Rock? Welp, we've got it. The actor bought his mom a new home for Christmas and the video will make you cry all of the happy tears.
She gets to pick any house she wants, anywhere she wants. Cue all the sobs.
The Rock took to Instagram to share a clip of him surprising his mom with the news and penned an extremely sweet explanation for why the gift was so significant.
"All our lives growing up we lived in little apartments all across the country. Lived like gypsies on the road from one state to another," he wrote. "The first home my parents ever lived in was the one I bought for them in 1999. They divorced about 5yrs later and as with life, stuff happens and things got a little complicated."
He gave his mom a "Willy Wonka Golden Ticket-style" Christmas card because he wanted her to know that she could have any house she wants, anywhere she wants. Her reaction was…well, you'll see below. Prepare to sob.
Feeling all the feelings? There's more. The Rock went on to praise his mom and express how grateful he is to have the ability to buy her such an amazing present. "I always say, if you got a good mama, then you gotta pretty good shot at becoming a decent human being," he wrote. "And somehow, somewhere along the line I became one lucky SOB to be able to make stuff like this happen."
Then he signed off his posted by calling himself "Dwanta," which is a nickname I think we should all get behind immediately.
If you need a few more helpings of The Rock on this dreary Sunday afternoon, I've got your back. Like, here's a picture of him playing with his daughter on only three hours of sleep.
And here he is feeding his wife while she nurses.
Annnnd here he is proudly changing a diaper. "Regardless of where we're at.. when #2 happens with my baby girl.. I'm the #1 man for the job," he wrote.
Welp, I guess next year we should all send our Christmas lists directly to Dwanta. He'll deliver all of the holiday cheer, probably while changing his daughter's diaper.