The Rock's Mom Steals The Show During His 'Tonight Show' Appearance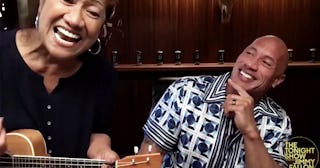 FallonTonight/Twitter
The Rock's mom might be a bigger late-night draw than the star himself
Dwayne "The Rock" Johnson is basically surrounded by women in his family life. He absolutely adores his wife and three daughters, plus, he's frequently posting about his mom, Ata Johnson, who is absolutely precious and must be protected at all costs. In the actor's recent appearance on The Tonight Show, momma decided it was time for her to be the main character and crashed his interview with Jimmy Fallon, much to the internet's delight.
If you watch this and don't end it with a smile so big your cheeks ache, I'm not sure what to tell you. She is literally the cutest and if her mere presence and singing isn't enough to make your heart burst, the way The Rock lovingly stares up at her will. They're way too cute together.
Momma Rock does a little ditty for Jimmy and when it's extremely well-received, she says, "we have one more!" and Johnson jokingly says, "no we DON'T have one more," but quickly hushes his yap because he clearly realizes the entire world would like to hear more of her sweet singing, Kimmel included.
The Rock later took to Twitter and Insta to share the clip himself and a shout-out to Kimmel for having the pair on his show.
To say people were here for her performance is an understatement. She's our mom now. Sorry Dwayne.
https://twitter.com/jetpack/status/1359780070953537536
https://twitter.com/jetpack/status/1359731116240850944
The relationship this mother-son pair shares is truly something to see. The joy on both of their faces when they're together is enough to make your freaking heart sing.
Seeing them together also helps us understand a little better why Johnson is such an involved (and totally sappy) dad to his three girls.
Seriously, half his Instagram is adorable photos of himself with his daughters, Tiana, Jasmine, and Simone.
This is a guy who truly delights in his family, and you love to see it.
So Jimmy, please invite The Rock back so we can see more of Ata. Or just invite her by herself — she seems more than comfortable taking center-stage all on her own.
This article was originally published on