The Rock Playing With His Kid At The Crack Of Dawn Is All Of Us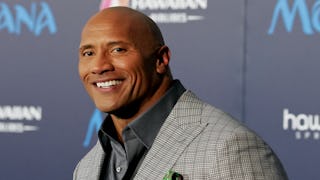 Image via Tibrina Hobson/Getty Images
Hold onto your ovaries, ladies — The Rock is at it again
We've all pulled late nights for one reason or another and then had to get up early with our kids — but not a one of us have ever looked as good doing it as Dwayne Johnson does in this photo.
"Working late and had only 3hrs sleep when this tornado busts in our bedroom, jumps on me and pleads with me to get up and take her to my closet (she keeps toys in my closet) to play," Johnson shared on Instagram next to an, ummm, extraordinary adorable (and a few other descriptors I'll leave out since this is about his kid) photo of him with daughter, Jasmine, three. "We get there and then – surprise – she refuses to play and just wants me to hold her while she makes fart noises.," he continued.
I mean, who hasn't dreamt of sitting around making fart noises with a shirtless Rock on a random Saturday morning. Don't even try to deny it.
"Tired as all hell, but thought ehh there's gonna come a time, years from now when jumping in my arms is the last thing she wants to do and ain't gonna be cool anymore — so I'll always take these moments while I can," he wrote.
He also has two other daughters, Tiana, six months and Simone, 17. "I wouldn't have it no way else but all girls. It's all girls," he said at the Jumanji premiere. "It's very special. I was raised by women. A lot of strong women. The basis of my tattoo is the strength of a woman. That's what it means… So, the fact that I have three daughters now is a beautiful thing. Just surrounded. Give me more estrogen. That's what I asked the universe. More estrogen."
If you follow him on Instagram, you know he regularly shares sweet pics of his kids, like this one getting an in-home mani by Jasmine as well.
He also regularly fawns over girlfriend of ten years, Lauren Hashian for being his rock and for being such a great mom to their girls. "I'll handle this business Mama @laurenhashianofficial has her hands full nursing/feeding Baby Tia, so I'm feedin' mama her dinner," he wrote after daughter Tia was born.
In a world that seems to deliver one horrendous story after another on a daily basis, can we all just take a moment to remember times like this, hug our kids a little tighter, and be grateful we have the opportunity to have those times in the first place?
Can we also request that The Rock continues to post pictures like this as much as humanly possible? And do so shirtless if that's not too much to ask?