The Rock Shares First Photo Of Newborn, Gives Heartfelt Advice To New Dads
by Ashley Austrew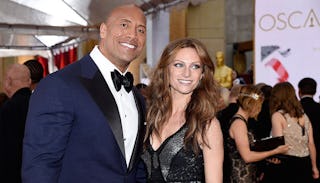 Dwayne "The Rock" Johnson just shared the most precious photo of his newborn daughter.
Dwayne "The Rock" Johnson is a dad for the second time, and he just announced it to the whole world in the sweetest way. The actor and former wrestler shared an intimate photo of his brand new little girl, along with a few wise words of advice for other dads.
In the photo, Johnson is cuddled up skin-to-skin with newborn Jasmine, and she's resting her impossibly tiny little face on his larger than life chest. Beneath the photo, he thanked fans for their support before writing, "Kinda crazy but in this cool and powerful skin to skin bonding moment with my newborn baby Jasmine, I had just one wish I asked the universe… Give me the strength to be a better man today than I was yesterday. If I can accomplish that, then I'd have a good shot at being a great father."
Johnson then talked about labor and delivery and what he thinks it takes to be a good dad. He told all the other new dads out there to remember "the goal of being better will never steer you wrong." He says:
"Trust me I've been down this road. Something else that'll never steer you wrong is "walking thru the fire" with your baby's mama. I was right there during labor, helping her breathe, every highly intense contraction, every second of pain, right there watching the actual birth, cutting the cord and wiping the tears. Incredible. *(Now don't get me wrong boys, it wasn't like I was at the end of the table, squatting like a catcher waiting for the fastball to come down the pike..😂 but as men, it's a miracle we should witness because it'll give you a whole new respect for the strength and beauty of a woman)."
Jasmine is the first baby for Johnson and his longtime girlfriend, Lauren Hashian. He also has a 14-year-old with his ex-wife, film producer Dany Garcia. It's been a while since The Rock has been daddy to a newborn, but as this post proves, you never really lose that fatherly instinct once it's there.
It's not every day you get the chance to see a "tough guy" like Dwayne Johnson showing such a tender side of himself and reaching out to other men about the importance of being there for their partners and their kids. It's an incredibly meaningful message, and it's even more pointed that it's coming from a former wrestler and action-hero type that so many dudes look up to.
Congratulations to Johnson and his family on the best holiday gift ever. She's clearly a lucky little girl to have such a loving and devoted dad.