Cast Of 'The Sandlot' Reunites And Everyone's Losing Their Chill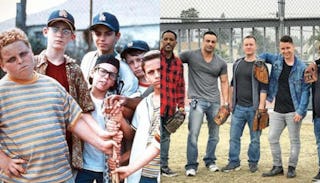 Image via Instagram/E!
The entire gang from 'The Sandlot' got together because legends never die
Be still our beating millennial hearts — the cast of everyone's favorite coming-of-age film from the '90s has reunited for the film's 25th anniversary. We all loved the film for its depiction of youthful camaraderie, historical fiction, and — let's be honest — developing some our first crushes on the lead characters.
In which case, let's just get this out of the way now: wait until you see Yeah Yeah's glow up. Not even kidding.
The reunion took place on the Today show with NBC's Gadi Schwartz sitting down with the cast at — where else — a baseball field to celebrate the film's big anniversary. Now, who could forget what the cast looked like 25 years ago?
And here's what they all look like now (minus Benny "The Jet" Rodriguez, much to the chagrin of those of us who realized we liked boys thanks to him).
Yep, there's Squints, Ham, Smalls, Nunez, the Timmons brothers, and… OH YEAH. Second from the left. That's YEAH-YEAH with the biggest glow up of the reunion. Nothing small about him anymore, but he's killin' us (Get it? Okay, I'll see myself out).
When asked about the attention he's received through the years, actor Marty York says, "It's been crazy. I mean, it definitely gets you in places for free. I can't walk through a Las Vegas casino without someone shouting, 'Yeah-Yeah!'"
Tom Guiry, who played the film's protagonist, Smalls, acknowledges the movie still resonates with everyone who loved it back then. "It made a big impact on lots of people's lives," he says.
Personally, it's worth mentioning the whole "you play ball like a GIRL" thing. Now I cringe when I hear kids still using it as an insult because of the movie. Sure, it takes place in the 1960s, yadda yadda yadda. It still sucked hearing that as a young girl who desperately loved cracking balls in the front yard with my dad.
Patrick Renna, the actor who played Ham, says his kiddo is still a little too young to appreciate the movie. And sexist barbs aside, what's not to love about Hamilton Porter?
Chauncey Leopardi, also known as the incomparable "Squints," says his teenage daughter is less than enthused about her dad's iconic portrayal. "I think she thinks I'm just kind of a dork."
Naturally, people everywhere were as jazzed about this reunion as Benny was about his brand-new PF Flyers.
If more of this kind of '90s nostalgia is your jam and you're looking for s'more (get it? *wink*), you can check out the new collector's edition DVD and Blu-ray of "The Sandlot" has been released in honor of the film's 25th anniversary.