'Sandlot' Actors Run Into Kid Wearing 'You're Killing Me Smalls' Shirt And It's Epic
by Valerie Williams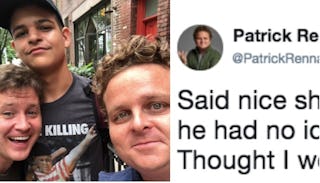 Image via Twitter/Patrick Renna
Patrick Renna and Tom Guiry's encounter with a kid in a "Sandlot" t-shirt is internet gold
If I say "you're killing me, Smalls" and you look at me funny, you're either too old or too young for us to chill. The classic 1990s film The Sandlot captured the hearts of millennials everywhere, but if you can even believe it, there are kids today who have no idea who the Great Hambino is — even when he's blazoned across their own shirt.
Actors Patrick Renna and Tom Guiry, aka, Hamiltion "Ham" Porter and Scotty Smalls from The Sandlot, were wandering Manhattan when they stumbled on a young man wearing a very cool shirt. Specifically, a shirt with the film's iconic line "You're killing me, Smalls" — and an actual image of Renna from the movie.
Apparently, the boy had no idea who he was taking an epic selfie with, because Renna tweeted the photo of him wearing a shirt with his child self on it along with the caption, "Said nice shirt to this dude walking by us and he had no idea what we were talking about. Thought I would capture the moment." Because you see, sports fans, Guiry and Renna played the exact characters that timeless and oft-repeated quote is referring to.
Cue a few million millennials yelling at this kid to get off our lawns.
I mean, it's understandable that this young dude had no idea he was standing next to the actual Great Hambino. It's not like he doesn't still look EXACTLY THE SAME 25 years later.
Twitter had plenty to say about this kid's clueless encounter with two stars of one of the greatest films of all time (don't @ me).
Also, his resemblance to one Benny "The Jet" Rodriguez didn't go unnoticed.
https://twitter.com/jetpack/status/1022309138553024513
But most people were just stunned that this guy had no idea he was in the presence of greatness.
Um, also, I need this fine art on my wall yesterday.
A lot of folks were merely curious if the actors divulged their true identities.
I mean, he literally still looks like he did in 1993.
https://twitter.com/jetpack/status/1022494976842842112
Alas, no response from Renna (Guiry isn't on Twitter) about whether or not they set the unwitting wearer of a seriously amazing t-shirt straight. Thankfully, it translated to internet gold regardless.