Here's The Trailer For 'The Secret Life Of Pets 2' Without Louis CK's Dumb Voice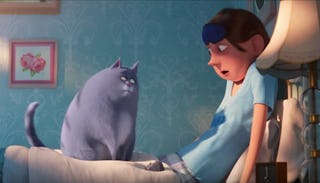 Image via YouTube/Illumination Studios
This trailer already has us dying to see The Secret Life of Pets 2
Pet lovers everywhere delighted over The Secret Life of Pets, the animated film that confirmed all our suspicions that our furbabies live adventurous, covert lives while we're away from home during the day. And now, the trailer is finally here for The Secret Life of Pets 2, and it promises to be just as cute as the first movie. Maybe even cuter, if that's possible.
Bonus? The awful Louis C.K. won't be reprising his role in the new film, so we can feel free to enjoy it!
We're just absolutely rejoicing that Louis C.K. lost his job playing Max, and will be replaced by Patton Oswalt, who we love (and who has a heart of gold and has definitely never repeatedly sexually harassed his female peers like C.K. did).
This trailer is the first of a series of upcoming character trailers, and it focuses on Chloe, the rotund gray tabby cat who enjoys eating everything in the fridge the minute her humans' backs are turned.
The new clip shows Chloe getting up to all her old antics and some new ones. The scene that shows her locking eyes with her horrified owner and hacking up a hairball directly onto the bed will particularly resonate with all cat owners.
Chloe (voiced by Lake Bell) isn't the only character from the first film who will be returning for the sequel. We'll also be seeing Eric Stonestreet returning to voice Duke, and Kevin Hart reprising his (hilarious) role as Snowball.
There will also be newcomers in The Secret Life of Pets 2. We can't wait to meet Shih Tzu, a new character voiced by Tiffany Haddish. And surely there will be plenty of other surprises revealed when this cute-fest finally hits theaters.
And let us reiterate — there will be no terrible Louis C.K. ruining everything in this much-anticipated sequel.
The Secret Life of Pets 2 won't be released until Summer 2019, unfortunately, so there's still a while to wait before we get to collectively "aww" at our movie screens. But that's ok — these cute trailers and the knowledge that Louis C.K. is cancelled will help tide us over in the meantime.