The Senior Year: Uncertainty And The College Application Process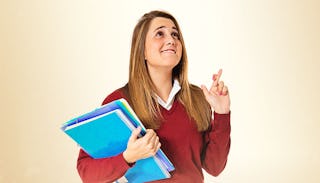 This is the second installment of a yearlong series in which a stay-at-home mom chronicles her youngest daughter's senior year of high school and the college admissions process. She also relates her parallel journey as she prepares for an empty nest and considers what to do with the rest of her life now that her stay-at-home job is ending. Read the first installment here.
Both parents and kids may experience a whole flood of emotions during the senior year of high school, from sadness to excitement to anxiety to elation. But besides the emotions, there is a practical side when it comes to senior year: figuring out what to do the following year. For the kids in my New Jersey town with a large public high school, about 95 percent of the class will go to college, and about 88 percent of those students will choose a four-year school. We live a short distance from Rutgers, and about 20 percent of the class will go there. Most will live on campus, even though it's a simple 15-minute drive away.
My daughter is typical of her class; she's applying to 10 four-year colleges (some public, some private), a range of "safeties" (a term meaning that her GPA and ACT scores are above what the school generally accepted in the last year or two), "targets" (a term meaning that her GPA and ACT scores align with the students they took in the last year or two) and "reaches" (a term meaning that her GPA ad ACT scores are below what the school generally accepted in the last year or two). With every school my daughter has chosen, regardless of how likely she is to get in, I've asked her, "Will you be happy here if this is where you wind up going?" It doesn't matter if it's a safety school for her. Plenty of kids wind up going to their safeties. She needs to know her safety schools are just as much of a possibility as her targets.
Reaches sometimes do come through. My older daughter got into one of her reaches, and she now goes there. All the way through the application process, I warned her that she was unlikely to get in. I even kind of whined about the waste of money for the application fee. Imagine my surprise when a thick envelope from that school came for her on a snowy winter's day. She'd applied to it on a whim, because they had a unique program she was interested in. We hadn't even visited the school when she applied. Six weeks later we traveled there, and she fell in love.
My younger daughter has chosen three reaches. Again, I'm cautioning her that it will be very hard to get into those places. But at the same time, I've encouraged her to apply. Never mind the application fees now, I say—even though eight of her chosen schools have fees ranging from $30-65, so we will be spending hundreds of dollars just during the application season alone. (And I realize we are fortunate that we can afford to do this.) My new theory is that it's better to know for sure rather than always wonder if she would have gotten in.
We told her we think she should be done with applications by October. She's applying early action to eight of the ten schools, so she will know whether she's in those schools by February, more like March or April for the other two that don't accept early action. Applying this way means all of her materials—application, transcript, letters of recommendation, and yes, those application fees!—need to be in colleges' hands, or literally on their computers, by December 1. Since her high school processes so many transcripts, she needs to give the guidance office a chance so they can have hers done by the deadlines.
The Common App came out on August 1. The Common App is a general online application many colleges and universities in this country use for their application process. The good news for my daughter is that all of her chosen schools are on the Common App, so there are no extra applications to fill out. But still, many want "supplements." Supplements are extra essays or statements in addition to the Common App and its general essay.
My daughter has filled out all of the basic information on the Common App, and there is a lot, from where your parents and siblings went to college and whether or not they graduated and with what degrees, to your favorite activities and how likely you are to continue them in college, to how you plan to prove your ACT scores. However, she hasn't nailed down an essay yet. She's tried her hand at a few ideas, but none of them have really stuck. I have no doubt that she will find the perfect one for her. I also have no doubt this might happen on September 30 or into the early hours of October 1. Or, you know, October has 31 days. There's a lot of room in the month to work on the essay.
I reminded my daughter just today that in nine months, we will know where she is attending college next year, and a year from now, she'll be walking onto a college campus somewhere. But we don't know where. We want to know where. If she finishes those college applications, we'll find out.
This article was originally published on