This Is Not A Drill: The Spice Girls Are Reuniting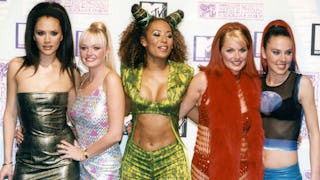 Image via BENAINOUS/Gamma-Rapho via Getty Images
The Spice Girls are reuniting, so zig-a-zig-AHHH
Grab your brightest orange platform sneakers and your most cheetah-printed dress. The Spice Girls are reuniting this year — which means that the 90's are officially BACK and better than ever.
Still no word yet on how/when the girl group will get together but we all need to dig out our copy of Spice World and watch it immediately (it was bad but, like, in a really good way).
The group — Victoria Beckham, Geri Halliwell, Emma Bunton, Melanie C, and Mel B — first sparked reunion rumors when they posted a picture of themselves on Instagram, accompanied by some pretty cryptic messages.
Then, Beckham's publicist released a statement to Entertainment Weekly on behalf of the entire group, stating: "We have enjoyed a wonderful afternoon catching up and reminiscing about the amazing times we have spent together. We are always overwhelmed at how much interest there is across the whole world for the Spice Girls. The time now feels right to explore some incredible new opportunities together."
Cue "Wannabe" RIGHT NOW. GIRL POWER IS BACK Y'ALL.
The former girl band went on to say that there are "many exciting possibilities" in the works that will "embrace the original essence of the Spice Girls…while reinforcing our message of female empowerment for future generations."
Okay, so, again that's all super cryptic but according to a report from The Sun the women are mulling over "TV projects in China, a new telly talent show, endorsement deals, and a compilation album celebrating their greatest hits." The only bad part is that — per The Sun — Beckham is refusing to sing with the girls again. This is very disappointing but perhaps not altogether surprising. The fashion designer said in a 2016 interview that producers used to "turn off [her microphone] and just let the others sing" during concerts.
Honestly, Beckham could literally just stand on stage in some sort of rubber costume, scowl, and we'd all be giddy, happy customers.
All this reunion news has – understandably – turned the internet into a frenzied mess.
Middle School Me feels the same way, no doubt.
https://twitter.com/jetpack/status/959468785240559616
SIGH. Eagerly awaiting more details on this. In the meantime, please feel very free to sing as many Spice Girls songs as you want. We've got prepare for their next concert, and our kids will just have to deal.
This article was originally published on