The Steve Madden Slinky Is Baaaaaack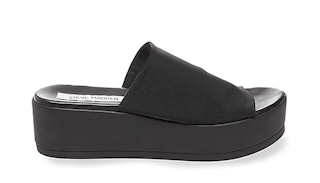 Image via Steve Madden
Your favorite 90's shoe is back
If you were a young woman in the 90's, there was an iconic shoe that lived in your closet. We all had at least a pair. Now that shoe is back, and women everywhere are getting a major dose of nostalgia.
Can you guess the shoe we're talking about? Of course you can. It's the Steve Madden Slinky Platform. We all had a pair. Or two. Or three.
If you remember your own pair, you can see the 2017 version has some sleek updates. The base is flat, instead of the 90's signature Madden wedge. We're dying to know if the leopard print variety is going to make a comeback, too. Fingers crossed.
"Relive your best '90s looks with SLINKY! This throwback favorite slide, featuring a flatform sole and stretchy upper, is back and has never looked better — a must-have shoe for longtime SM girls," the Steve Madden website reads. You can pre-order yours for $69.95 now. Expected ship date is July 9, 2017.
Anyone who was a young lady in the nineties remembers the platform style — it's the most forgiving heel around. And the elastic upper made them the most comfortable shoe in your collection.
Oh, and if you somehow managed to make it through the 90's without wearing these and you think they're hideous — you may be right.
But you can't sit with us.
This article was originally published on