The Top 10 'Ooh, I Love This Song!' Tunes From My '80s Childhood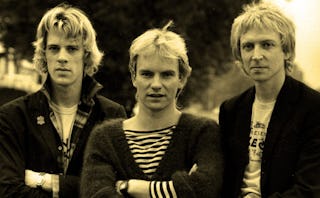 Whenever I need a jolt, a burst of youthful energy, I don't reach for some regenerating, age-defying skin cream; I reach for my iPod and crank up the tunes! And not just any tunes—but tunes that remind me of my carefree childhood in the 1970s and '80s, when anything was possible and simple things like a treat from the ice cream man could instantly propel me out of my blues. Most of these songs are not only infectious for their beat but also for the memories they made. Here are the top 10 "Ooh, I Love This Song!" tunes from my childhood:
1. 'Our Lips Are Sealed,' The Go-Go's
Every time I hear this song, I remember speeding down a steep water slide on a Jersey shore boardwalk, my younger sister eagerly awaiting her turn behind me. At age 10, I barely felt fear, sliding down and splashing into the depths of the wading pool—an exhilarating summer memory, sunburn and chlorine-soaked eyes be damned!
2. 'Every Little Thing She Does Is Magic,' The Police
My cool, older cousin first played this song for me, igniting a lifelong love for Sting. My sister, my friend and I would pretend to be The Police—my friend and I chose the drummer Stewart Copeland and Sting, respectively, because we had crushes on them. My poor little sister was always stuck with the guitarist Andy Summers, who didn't appeal to her at all! I can still hear her grumbling under her breath.
3. 'Don't Stop Believin',' Journey
Driving up the New Jersey Turnpike, this album echoed in my head on repeat after listening to it nonstop with my South Jersey cousins. As soon as I arrived home, I persuaded my mom to buy me the album. Belting out the inspirational anthem with Steve Perry, rocking out with guitarist Neal Schon and developing a crush on keyboardist Jonathan Cain—it all culminated in my writing my first fan letter. You never stop believing those small town kids will make it and live happily ever after—and you will, too.
4. 'I Want a New Drug,' Huey Lewis and the News
I bought this album, Sports, with the Footloose soundtrack when I was 12, along with the latest Sweet Valley High book (No. 10 if you must know). This catchy, stick-in-your-head song peps me up like the scene in the video where Huey dunks his head into icy water. Later on, Huey seemed suspiciously uncool (probably during my hair metal and prog rock phases), so I left the album out on the stoop and later spied a neighborhood kid snatch it. I'm sorry I forsook you, Huey Lewis. Your songs live in my heart and on both my iPods.
5. 'I Feel for You,' Chaka Khan
This song never fails to lighten my mood. I literally find tears in my eyes, and goose bumps erupt on my arms, while listening to it—Chaka makes me feel things with this song, lyrically and otherwise.
6. 'Photograph,' Def Leppard
My first trip down Hair Metal Lane and away from having to listen to Barry Manilow with my mom! From the opening guitar chords of "Photograph," my days of easy-listening would forever be pushed aside for real music. It reminds me of the early days of MTV, when I never changed the channel unless my mom walked in, disdainfully asking, "What is that?!" However, this video wasn't risqué—just Joe Elliott prancing around in his ripped-up Union Jack shirt with leather pants and a messy mullet, whining about a bad Marilyn Monroe lookalike.
7. 'Don't Stop 'Til You Get Enough,' and 8. 'Wanna Be Startin' Somethin',' Michael Jackson
Both of these songs are so danceable that I just cannot get enough and cannot stop myself from busting some awkward move. (Only drinking can bring out the hidden dancer in me.)
9. 'Rock and Roll All Nite,' Kiss
From a very young age, I was fascinated by Kiss. The makeup and costumes scared the hell out of me, but I was still drawn to them, partly because so many of their songs rock—including this timeless one. In high school, my friends and I dressed in full costume as Kiss for a school lip-synch contest.
10. 'Jack and Diane,' John Cougar Mellencamp
I'm convinced that John is singing about a couple he knows, and honestly, we probably all know at least one couple who fit this song, whether they're still together or not. I love the hand claps, the detailed descriptions, and I always sing along.
This article was originally published on