The Top 10 Things I Learned by Working for David Letterman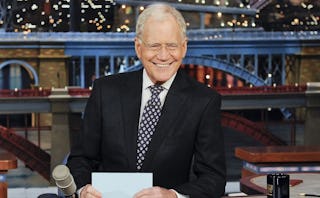 Dave's decision to leave NBC in the wake of the choice to hire Jay Leno for the vaunted 11:30 p.m. time slot caused an uproar in the media that was unprecedented, and I found myself in the middle of the resulting media storm. The entire country had its eyes on Dave that summer, fascinated by his multimillion-dollar deal at CBS. He was the mystery man everyone wanted to know, and I was a naive, former student council president from suburban Florida with a front-row seat to the madness. I didn't realize it at the time, but that summer would teach me so much about being a grown-up, so much about being a human. I will try to boil the highlights down to 10, in homage to Dave's trademark style:
10. Let people in on your joke, and they will love you.
When I started working for the show, we had a recurring character called "Pea Boy." When Pea Boy would appear, out of the blue and irrelevant to anything else going on in the sketch, crazy music would play, and this college boy—a former intern himself—would run up and down the aisles dressed up like a giant green pea. It was absurd. It was also strangely hilarious, mostly because you only really got the joke if you watched the show enough to know what was going on. That was one of the things I learned about Dave's skill as an entertainer: He always made you feel like you were sharing his private joke. It was you and him, laughing at the world, because the world is ridiculous. Which brings me to …
© CBS
9. Never forget how absurd this all is.
That summer, the public was so obsessed with Dave that there were people making butter sculptures of his face in the middle of Times Square. News reporters were sidling up to all of us—even the unpaid interns—trying to get closer to the action. He had made a deal for millions of dollars, and he had the biggest stars in the land vying to be on his show. But he was just showing up to work every day like the good Midwestern kid he was, no matter the insanity going on outside the studio doors.
8. Surround yourself with people you trust and treat them well.
The public might not realize that a lot of people who worked for David Letterman never left him. I went back recently to watch one last show, and I sat in the control room with many of the same people who were there that summer 22 years ago. They have lived their entire adult lives—married, had babies, sent those babies to college—while working for Dave. Late Show is a family.
7. The best guests are great storytellers.
Whether they are comedians, musicians, news personalities, actors or just quirky people with a tale to tell, the best guests by far were the ones who could take the show and run with it while Dave played their straight man and audience. If you watch him enough, you can tell who his favorites were and why: people like Tom Brokaw or Tom Hanks, genuine raconteurs who would make great dinner-party guests, never mind incredible TV. This perspective taught me what it means to really show up for something, in work or in life.
© CBS
6. You're never too big or too fancy to enjoy what you are doing.
The Late Show staff took their jobs very seriously, and they worked extremely hard. But they also had fun. They laughed a lot. They dared each other to do crazy things: One day, one of my intern duties involved buying many pounds of raw bacon for an ill-advised raw-bacon-eating contest. Another time, it was (equally ill-advised) raw oysters.
Similarly, some of Dave's best guests showed how much joy they get out of what they do: John Mellencamp kept playing for the audience even during the commercial breaks; others like Bill Murray, Martin Short or Julia Roberts were up for anything and never minded making fools of themselves. Dave inspired people to embrace the moment and have fun with it.
5. Notice the small things.
Dave cared about every detail of his show. From his ties to his desk chairs, he was involved in every decision and choice. He noticed the little things others might overlook. He paid attention. That makes for a great talk-show host because he could point out details and draw stories from even the most reticent guest. But it also taught me, at an age when I took a lot of things for granted, that everything could be a story and details are where the really good stuff is, no matter if I was trying to produce a television show or write a short story or, later, plan a child's birthday party.
4. Don't count on a do-over.
The Late Show taped live-to-tape, which meant that unless something really egregious happened, there were no do-overs. It was almost like doing a live show. The goal of our days, then, was to be prepared for anything and everything, to hope things went as planned, and then to be prepared to save the segment if they did not. Dave's grace under pressure, his ability to be in that moment and make it work, was another skill that made him great. Sometimes a joke fell flat; sometimes a stubborn animal refused to perform a "Stupid Pet Trick." It wasn't the end of the world because Dave would make it work anyway, and we were expected to make it work too.
3. Don't rest on your laurels.
No matter how big his success or his paycheck, Dave was never completely satisfied with his performance. To me back then, this was mystifying and a little frustrating. Could a show ever be a home run? But as I went on to work on other shows and in Hollywood, I grew to appreciate Dave's commitment and his standards. When people now ask me what he was like, my first answer is always that he had an incredible work ethic (and that he was always exceedingly polite to me). I didn't know then how rare Dave was in the entertainment world.
© CBS
2. Nothing is impossible.
Some of my tasks when I was an intern included convincing a local McDonald's to let Dave work the drive-thru on camera and organizing 300 construction workers who had helped renovate the Ed Sullivan Theater to march parade-style onto the stage during the first show at CBS so we could honor them. Every day at Late Show was a challenge and an adventure, and I learned so much about being resourceful and problem-solving from my time there. It prepared me (somewhat) for motherhood, which can be equally crazy and difficult.
1. Call your mother.
Some of my favorite segments on the show were when Dave called his mother in Indiana. When you saw him interact with her, you saw where he came from. When all is said and done, all the celebrities are fun, but our parents and the other people in our everyday lives? They're the real deal. They keep us honest.
David Letterman will air his last show this Wednesday, May 20, and I am intensely sad about it. Watching Dave dim the lights at the Ed Sullivan (aka, The House That Dave Re-Built) this week will be the end of an era in television. It will also be a turn in the road for this 40-year-old who grew up watching Johnny and Dave and was lucky enough to receive an education in work as well as in life one hot New York City summer all those years ago. As much as I know the time is right, I can't help but mourn yet another ending. Like so much else that is happening as I age, I am not ready to give Dave up yet.
Thank you, Dave. There will never be another you, neither to me nor to all the other fans who grew up with you, looking to you for both laughs and, more recently, reassurance in times of crisis for our country. Like Norm MacDonald said last week, it's not sentimental if it's true: We love you.
This article was originally published on