Disney World and Other Things To Do in Orlando With Kids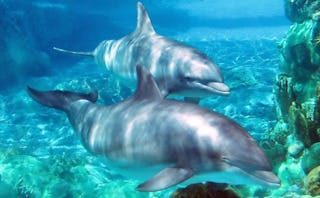 When people think of Orlando, they're usually thinking about Mickey Mouse and how quickly they can get some Dole Whip down their throats to beat the heat. Orlando is much more than just Disney World — don't get us wrong, you absolutely should not visit Orlando with the kids and not spend some time at Magic Kingdom. But there is much more to see and do with family on your vacation. Here are our recommendations for the best things to do in Orlando with kids.
Attractions in Orlando for Kids
When in Orlando, plan to visit Magic Kingdom. Yea, we just mentioned "other things" you should be doing, but we know Disney will be part of your visit and you can't go wrong with Magic Kingdom with enough attractions to keep all ages in your party happy. Plus, if you don't go, every single one of your friends and family will want to know how you could possibly be in Orlando, and not go to Magic Kingdom. There is so much to do that you will be busy from morning to night, and you will definitely want to get at least a bite or two. Read more about Disney with kids here.
In Universal Studios/Islands of Adventure, choose Islands of Adventure. Between The Wizarding World of Harry Potter and Seuss Landing, there is something for all ages in your party. You and your children will get a kick out of all being able to drink "beer"- Butter Beer! Alcohol free, super sweet, and impossible to resist! Also, do not skip Pteranodon Flyers in the Jurassic Park area. Adults can only go on this ride if they are with a a child 36″ to 56." No ifs, ands or buts. Trust us, we tried.
Celebration: The Town that Disney Built is well worth a visit. Once you enter Celebration you feel as if you have been transported to a time and place where neighbors all knew each other, and life was easy and simple. There are a number of really great restaurants in Celebration including Columbia. The delicious Sangria will erase any memories of anything that has possibly gone wrong during your travels/vacation. It's yummy food, but kid friendly. Great combination!
No visit to Celebration would be complete without a visit to Kilwins Ice Cream Shop. On hot days you will be cooling off with ice cream, and on cooler days you and the kids will be loving their rich hot chocolate. A perfect place to enjoy your ice cream or hot chocolate is by the lake front in one of the rocking chairs. If the weather is warm make sure you have bathing suits and towels for the kids as the town sprinkler always has children squealing with laughter no matter the time of day.
Right next to Celebration you will find Old Town which is reminiscent of old school carnivals complete with Go Karts, Tilt-a-Whirl, Ferris Wheel and so much more. Definitely a place you can spend a few hours, between the rides and a number of places to grab a bite.
Are your children fascinated by alligators and crocodiles? Head over to Gatorland! In addition to alligators and crocodiles they also have a petting zoo, nature walk, a splash park, a variety of shows, and so much more. Gatorland is a safe way to get up-close-and-personal safely with creatures that would very much like to eat you!
In the past few years, SeaWorld has upped their game. Besides fascinating shows they have also added rides that are geared towards little ones, as well as thrill rides for older kids and adults. SeaWorld also has two sister parks: Discovery Cove and Aquatica. Do you have children begging to swim with dolphins? Then you definitely want to check out Discovery Cove if they are 6 or older. Want to spend a day in a fun water park with rides and animals throughout the park? Head over to Aquatica.
Discovery Cove is not as well-known as SeaWorld but is more than something kids and their parents can enjoy together. Hands-on lessons in marine life, including a swim with dolphins, make Discovery Cove a hit among curious kids. Shy kids come out of their shell when Dolphins swim up and smile making the experience shared with parents a treasure.
Orlando Activities for Kids
Downtown Disney District is a a shopping, dining, entertainment mecca. From movie theaters to Planet Hollywood to a 50,000 square foot Disney merchandise store, there is so much to see and do it can be overwhelming. Once Upon A Toy is a fantasy toy store for children and adults. Between the toys and decorations your children may never want to leave.
If you like bowling, you will love bowling in the Happiest Place on Earth: Splitsville Luxury Lanes. Want to sit back and relax? Catch a movie in the AMC Dine-In Theatre. You reserve your seats, and then get to sit back. A waiter will bring you everything from popcorn to steak!
If camping at Disney's Fort Wilderness, attend the nightly campfire and movie night with Chip and Dale. Enjoy an evening under the stars while eating hotdogs, roasted marshmallows and drinking hot chocolate while a (what else?) Disney movie is shown on a big screen. Chip and Dale, along with other Disney favorites, come out of the woods for some frolic and photo time giving campers a relaxed moment for character interaction. The fun begins nightly at 7:30, weather permitting.
LEGOLAND is located in Tampa-about an hour's drive from Disney World. It's fantasy world created built completely out of Legos; rides, shows, and in the spring through early fall, a water park, too!
Clearwater Marine Aquarium is home to Winter the Dolphin star of the movie "Dolphin Tale." The movie tells the tale of Winter who lost his tail, forms an incredible bond with a young boy who believes a prosthetic tail can be be created. You will get to meet Winter, as well as many other animals including sea turtles, otters and much more. There is much to see and do, including, but not limited to animal interactions and a safari boat tour.
About 40 minutes from Disney World, you can visit NASA at Kennedy Space Center and see rockets, launch pads, meet astronauts, and get a chance to see what it is like to train in a spaceflight simulator. It is definitely a unique experience.
There is a space-themed food court to grab a bite to eat, but if your children are really into space travel they might want to have Lunch with an Astronaut. You will enjoy a delicious meal, a short talk by an astronaut, and get a chance to take a photo with the astronaut. You may not get a chance to actually go to the moon, but your children will be over the moon by the whole experience of the Kennedy Space Center.
Orlando Natural Springs
Florida's famous beaches may be quite a trek from Orlando but don't forget the gorgeous natural springs. Within a few miles of Orlando, is Blue Springs State Park where manatees swim and who wouldn't love seeing those gentle giants in their natural habitat? Slow down and take a glass bottomed boat tour and experience a stunning side of Florida often overlooked in the theme park and beach rush.
Canoe or kayak at Wekiwa Springs State Park for an entirely different Florida experience. Bring a waterproof camera. You'll want to snap photos of all the beauty as well as prove Florida is more than theme parks and beaches.
Transportation in Orlando
The International Drive I-Ride Trolley is one of the best tips you'll ever get. Parents don't have to sell their first born for a parking spot and the kids have just as much fun on the Trolley as the actual destination. Whether you have plans for shopping on I-Drive, dining at Dave & Busters, or you're heading for WonderWorks – you'll be thankful you chose this option.
Indoor Attractions in Orlando for Kids
For the truly adventurous family, you definitely need to check out iFly Orlando, an indoor skydiving experience that creates true free fall conditions, just like skydiving, without having to jump out of an airplane. Kids ages three and up, along with their parents, can participate. That way, mom won't have a heart attack watching her child feel the thrill of free falling. After all, he isn't actually jumping out of a perfectly good airplane from 5,000 feet above the earth.
MORE: Things to Do in Disneyland With a Toddler
Must-See Spots on Hilton Head Island for Family
Best Activities for Kids in Las Vegas
This article was originally published on