'The View' Apologizes For False Positive COVID Clusterf*ck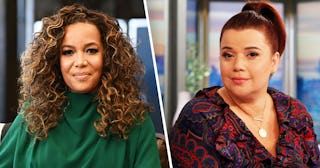 ABC
The co-hosts were taken off stage during Friday's live episode after their COVID tests came back positive
Whoopsie. Just when you thought your workplace environment was disjointed and suffered from a lack of communication, ABC comes along and says LOLZ.
Last week, guest co-host Ana Navarro and panelist Sunny Hostin were told to leave the ABC talk show's set while broadcasting live on the air after they tested positive for COVID-19, moments before Vice President Kamala Harris was set to take the stage. Both panelists are fully vaccinated.
Yet on Monday, in one of the biggest cases of 'my bad,' fellow co-host Joy Behar told the in-studio audience that both tests were actually false positives and that all of the panelists, including Sara Haines, had been confirmed negative for the virus after several follow-up tests.
"I am thrilled to report that Sunny and Ana's Friday results turned out to be false positives, and everyone is safe, healthy, and COVID-free," Behar continued. "No one's got it. It was a mistake of some sort."
Executive producer Brian Teta stepped in to apologize to Navarro and Hostin for the situation.
"It was just an unbelievable set of circumstances, and we found out moments before we came back on the air," Teta told the panelists. "And in that moment, all I could think of was that we had to keep the hosts safe, and we had to keep the vice president safe — she could not walk out no matter what."
"And that led to some really awkward television that I'd like to have back if I could, but I really want to acknowledge and apologize to Sunny and Ana, because in the midst of all this chaos, they were put in this position where they had this information put out on television," Teta added.
Hostin voiced appreciation for the support from viewers but went on to detail what the false positive meant for her and her family.
"It was really uncomfortable for my results to be released publicly before I even knew what was going on, before they were verified, before I was tested again and again. And there were real life ramifications when things like that happen," Hostin said, explaining that her husband Emmanuel (who is a surgeon) had to be taken out of the surgery theater, her children were notified at school and her parents had to be rushed to get tested themselves.
It also meant that Hostin was the victim of harassment.
The panel ended the segment with an invitation for Harris to return to The View for a real, honest-to-goodness interview with all of the co-hosts.
"We would really like you to come back, Madam Vice President," Behar said.
This article was originally published on