2 'View' Hosts Pulled Off Stage Mid-Show Due To Positive COVID Tests
by Madison Vanderberg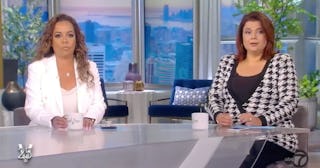 The View
The View pulls two hosts mid-show after they test positive for COVID-19
So, this is wild. In a first for Hollywood, two hosts of The View Ana Navarro and Sunny Hostin were pulled from the set, mid-show, for testing positive for COVID-19. Also, Vice President Kamala Harris was supposed to join the host desk this episode, but that was quickly re-routed, as we can't have the VP walking into a potentially, COVID-19 infested set. The moment was bizarre to watch on live TV, but honestly, I have so many lingering questions about how this happened in the first place.
"There seems to be something happening here that I'm not 100 percent aware of," Joy Behar tells the audience. "Can someone please apprise me of the situation?"
"We need the two of you to step off for a second," a producer's voice is heard saying to Ana and Sunny.
Then, a very surprised Ana and Sunny walk off the stage.
Finally, after cutting to a commercial break, Behar comes back onscreen (sans Anna and Sunny) to say, "Since this is going to be a major news story any minute now, what happened is that Sunny and Ana apparently both tested positive for COVID. No matter how hard we try, these things happen, they probably have a breakthrough case and they'll be OK I'm sure because they are both vaccinated up the wazoo."
I have so many questions. First off, why were Ana and Sunny allowed to go onto the set before their COVID-19 tests came back?
Isn't the point of the COVID-19 test to prevent people who have COVID-19 from going to set? Also, if two hosts tested positive for COVID-19, presumably other members of the show (including remaining co-hosts Behar and Sara Haines), might be positive for the virus too? Then, as Ana and Sunny walked off the stage, all I could think about were the number of people they already interacted with that day without their masks on. The makeup artists, their co-hosts, producers, etc. Respectfully? What a damn mess.
There have been breakthrough COVID-19 cases on Hollywood sets before, but none that have happened during live TV. The only saving grace here is that both Ana and Sunny are vaccinated, thereby making it unlikely that they will experience severe illness. Also, vaccinated individuals are less likely to spread the virus, so at least there's that.
Due to the incident, VP Harris did not visit the host desk but Zoomed into the program from a remote studio elsewhere in the building.
"I hope that you're in a safe spot right now. We did everything we could to make sure that you were safe because we value you so much," Behar told Harris at the start of their interview.
"Listen, Sunny and Ana are strong women and I know they're fine but it really also does speak to the fact that they're vaccinated and vaccines really do make all the difference," Harris responded. "Because otherwise, we would be concerned about hospitalization or worse."
Wild times, y'all.