Negan's Wife On 'Walking Dead' Will Be Played By Hilarie Burton -- His Actual Wife
by Kristine Cannon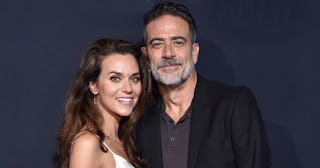 Axelle/Bauer-Griffin/FilmMagic/Getty
Jeffrey Dean Morgan's real-life wife Hilarie Burton will be his wife on "The Walking Dead"
It's hard to forget Negan's dramatic introduction at the end of Season 6 of The Walking Dead. The way he stepped out of the RV and — backlit by headlights and gripping a barbed wire-wrapped baseball bat in his right hand — ominously approached the helpless, kneeling group. Now, believe it or not, we're four more seasons into the long-running AMC zombie-drama, and, yep, Negan (played Jeffrey DeanMorgan) is still alive and swinging. So much so, the show's next move is to introduce Lucille, Negan's wife-turned-zombie, whom he named his deadly bat after. And who better to play the role of Lucille than Morgan's real-life wife, Hilarie Burton Morgan?
"Been pretty hard to keep this a secret," Burton Morgan tweeted this week. "But I love working with @JDMorgan."
"I love watching him become #Negan and take on that swagger. And I love the @TheWalkingDead family. They've been a part of our family for ages and I'm so grateful for their kindness," Burton Morgan continued to write.
Billed as a guest star, Burton Morgan will be featured in one of the additional six episodes slated to air in early 2021, Comicbook.com reports. In the comics, Lucille battled cancer, died, and became a walker.
The bonus episodes follow Season 10's fall finale, which aired last month; and according to showrunner Angela Kang, the episodes came about as a result of the COVID-19 pandemic.
"There's just no way we could have shot the premiere that we were planning during this time. And people felt we can get back to work safely, but just not doing that [episode] right now. There's 300 zombie extras and people crammed in spaces. And so rather than just not do anything at all, the studio asked us, 'Hey, can we do some episodes that pick up off of the end of season 10 and kind of continue the story and lead right into season 11?'" Kang told The Hollywood Reporter in early October.
Kang explained that the additional episodes have given the writers a "great opportunity" to dive into the characters and do some experiments with the storytelling.
"I hope that these episodes end up being really satisfying stories for the fans because I think you get to really dive into some of these characters in fun ways," Kang said.
https://www.instagram.com/p/B-z-Ag5hgSM/
This is the Morgans' second time working together for an AMC special. The two headlined Friday Night in With the Morgans show where the couple video chats with their celebrity friends — like Supernatural's Jensen Ackles and One Tree Hill's Danneel Ackles, and Christian Serratos from The Walking Dead — amid the pandemic.
"From our home here at Mischief Farm, we look forward to shining a light on those who are doing good in the world, catching up with old friends and connecting with the awesome fan base we've gotten to know over the years," the couple said in a prepared statement.
https://www.instagram.com/p/B_8PjRRFkir/
The show premieres April 17 and, so far, has 12 episodes.