The Wedding Singer's Rapping Granny Dies at 101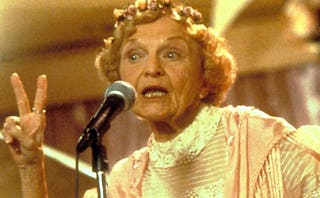 Born in 1913 in Pennsylvania, Dow studied acting in New York, worked in theater and ran with a troupe of mimes before making a name for herself in television and film.
Her career spanned two centuries, during which time she appeared in three Broadway shows, over 40 TV shows and around two dozen films—including Wedding Crashers, in which she played a raunchy, homophobic grandmom, and Studio 54, in which her character Disco Dottie famously OD'ed on the dance floor.
Despite her advanced age, Dow continued to score roles on the small screen, with recent appearances on shows like Hannah Montana, New Girl and Shameless.
Rock on in peace, Ellen!
This article was originally published on