'The Wizard Of Oz' Is Returning To Theaters -- Be Still Our Nostalgia-Loving Hearts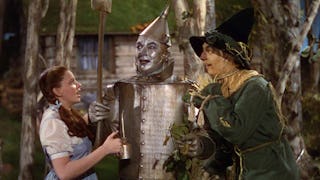 Image via IMDB
Now everyone can be 'off to see the wizard' in theaters — this month only
No matter how old you are, The Wizard of Oz probably played a significant role in your childhood movie experience. Now, your entire family can take it in together the way it was meant to be enjoyed — at the movie theater.
As part of Turner Classic Movies' "Big Screen Classics" series for 2019, fans of all ages will be able to enjoy watching Dorothy's adventures in Oz with the Scarecrow, Tin Man, and the Cowardly Lion as they race against the Wicked Witch of the West to see the "man behind the curtain" in Emerald City.
The Wizard of Oz was first released in 1939, which means it's celebrating its 80th anniversary this year! What's truly crazy about that is I remember my parents recording the 50th anniversary (which was broadcast on network television and hosted by Angela Lansbury) back in 1989 on the VCR. Remember those? LOL.
Now my own daughter is the same age I was back then, and you bet your ruby slippers I'll be taking her to the theater to celebrate our favorite movie. Which is why its return to theaters is special for so many of us — it's one of those movies that brings the whole family together, old and young, because it's just universally beloved.
Now make note of these dates, because The Wizard of Oz will only be in theaters for three days: Sunday, Jan. 27; Tuesday, Jan. 29, and Wednesday, Jan. 30. Each screening will include commentary before and after the film, with special movie insights by TCM Primetime host Ben Mankiewicz. (I'm sure Mr. Mankiewicz is delightful, but he's no Angela Lansbury if you ask me.)
To see if your local theater is participating in this special, nostalgic event, head on over to the Fathom Events website and plug in your zip code. Then tap your heels together three times, which might not help anything, but sure does feel right.