State Attorney's Office Gets Full-Time Therapy Dog To Comfort Sexual Assault Victims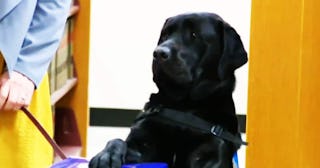 CBS Chicago/Youtube
A two-year-old black lab was sworn in at the Cook County State's Attorney's Office to comfort children who are victims of sexual assault
A therapy dog was just sworn in at the Cook County State Attorney's Office in Illinois to provide comfort to children who are victims of sexual assault or violence as they navigate what can be a scary and overwhelming justice system. Hatty, the two-year-old black lab, laid her paw over a law book and was sworn in on Tuesday, October 29, 2019 — making it the first therapy dog swearing-in ceremony for the office.
Kim Foxx, State's Attorney for Cook County, Illinois led the initiate and tweeted that she's "putting systems in place to make the [Cook County State's Attorney's Office] as victim-centered and trauma-informed as possible."
"Coming to this work with compassion and understanding of victims' experiences helps to ensure the system is fair and just to everyone," Foxx said on Twitter. "Hatty was trained to help provide comfort and relaxation while victims are in the courthouse or while they are giving their testimony."
Hatty was trained by inmates in St. Louis, Missouri by Duo Dogs Inc., which specializes in raising and training assistance dogs. Foxx outlined her approach in a poignant Medium essay about sexual assault reporting and told ABC 7 Chicago that Hatty is "going to come to help our victims and witnesses who may have some anxiety or trepidation or nervousness about coming into court. We are trying to make that experience more therapeutic for the people who come before us."
"Imagine coming to an institution where you don't know the people, it's not necessarily a welcoming place," Foxx added, while stating that this idea was informed by her own experiences as a sexual assault survivor. "I wanted to bring that experience I have to lessen that anxiety for others."
Hatty's primary handler and victim-witness specialist Stephanie Coehlo said in the same ABC interview that she hopes Hatty is able to build an "immediate report [with victims] that we as humans and specialists and attorneys can't necessarily build as quickly."
Hatty will attend interviews with children and can even sit on the witness stand with them.
"A trauma-informed approach begins with understanding the physical, social, and emotional impact of trauma on the individual," the State's Attorney's Office tweeted. "We are proud to have a resource like Hatty to provide a source of comfort for victims as they navigate this difficult process."
Hatty is the first therapy dog for the Cook Country State Attorney's offices and they anticipate that she will be in court helping up to 200 cases a year. Here's to more State Attorney's offices following in their lead.