Therapy Dogs Are Comforting Victims And First Responders After El Paso Mass Shooting
by Madison Vanderberg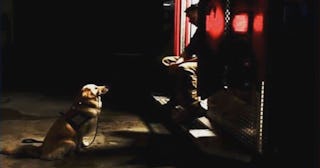 Service Dogs, Inc./Instagram
San Antonio therapy dogs flew down to El Paso to comfort victims and first responders in the wake of the Walmart shooting
On Saturday, August 3, 2019, a gunman opened fire at a Walmart in El Paso, Texas, killing 22 individuals and wounding more than two dozen. As the city reels from this senseless act of domestic terrorism, the Methodist Healthcare System in San Antonio sent a couple of their therapy dogs down to El Paso to comfort victims and first responders in the aftermath.
Two service dogs, Chanel and Rudy, flew down to El Paso on Sunday morning and according to Methodist Healthcare Systems, the dogs "are already providing their unconditional love and support to first responders helping them cope through this traumatic time." The dogs are trained by Service Dogs, Inc. who provide the dogs free of charge to the San Antonio hospitals where the dogs visit patients daily.
A therapy dog in a hospital is always a welcome sight, but Methodist Healthcare Systems told ABC affiliate KSAT12 that these pups are trained beyond the average service dog requirements and that they specialize in seeking out individuals in crisis.
"You'll actually see them head first to a person who is displaying the most stress," one of the dog's handlers told ABC13 Houston. "It's pretty amazing to watch…It also just lightens everybody's spirits."
According to Service Dogs, Inc, these are special "first responder facility dogs" who are trained to interact and "provide comfort to Emergency Medical Services staff, Firehouse staff, and other medical personnel in selected facilities. These dogs help ease the distress of those affected by the trauma they see on the job. Facility Dogs are highly trained and certified Assistance Dogs that are partnered with and live with a trained facility staff member."
The dogs plan to visit various El Paso hospitals, but they will also spend some time with the heroic first responders. Sadly, first responders are especially vulnerable to suicide, considering the scope and trauma of the work they do.
"The rate of suicides by first responders — firefighters, paramedics, law enforcement — has escalated from one every seven days to one a day," Methodist Health Systems said in a press release (via KSAT12). "These dogs can reach places in the heart no human can."
Service Dogs, Inc also trains pups to act as Courthouse Facilitators who "comfort children when they are interviewed or in court regarding abuse and other crimes."
The dogs and their handlers will stay in the El Paso area for several days to visit a number of first responder stations and hospitals and will even take a visit down to a family reunification center in the area. God bless dogs.
This article was originally published on