These Bathroom Murals Have Just The Messages Teenage Girls Need To Read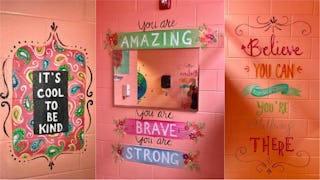 Image via Shari Jackson Link
Messages of positivity might just make middle school easier to navigate for these girls
Middle school is a rough time for girls. Academic pressure starts to pick up. Cliques develop. Bodies change. All of middle school is a time of transition, and that's not easy for anyone.
But an art installation at North Carolina's Fayetteville Academy aims to make things a little easier for middle school girls. The school commissioned local artist Shari Jackson Link, who painted murals all over in the girls' bathrooms that promote positivity, inspiration and inclusion. Around the sinks and mirrors, above the paper towel dispensers, on the walls and even even the stall doors, there are little messages meant to inspire and build up.
Now, during their bathroom breaks throughout the day, Fayetteville Academy girls are met with messages like "You are amazing, you are brave, you are strong," and "Every day may not be good… but there is something good in every day."
Some of the phrases are borrowed from writers like Dr. Seuss and J.M. Barrie.
All of them are meant to promote positivity at a time when girls really need it.
The murals are now getting attention from all over the world, thanks to a share on the "A Mighty Girl" Facebook page, which included links to resources to help parents and their kids navigate middle school, like a guide to "drama, rumors and secrets," and tips for standing up for yourself and your friends.
Jackson Link told ABC News that she was given the freedom to paint whatever she wanted in the bathrooms, and the concept she chose was inspired by the "drama that comes with middle school."
"I thought to myself, if a little girl is coming into the bathroom, she needs to know to not be a bully, but also be OK if she is bullied. I wanted the murals to talk to both sets," she said. "It's not only, 'Hey, you're beautiful on the inside,' but I also wanted inspire them to be nice to others. It would be hard to leave those bathrooms and be mean to someone."
The head of the school, Ray Quesnel, said Jackson Link's works "strike a chord with everyone."
"We've all been through middle school, and I don't care where you are or who you are, it doesn't matter, that's just a hard time of life," Quesnel said. "Everybody can remember back to good stuff, but everyone remembers tough things too."
The project isn't stopping with just girls, either. Jackson Link said her next move will be to paint similarly inspiring messages in the boys' restrooms. After that, she'll launch a similar project at a local elementary school.