These Books Will Help You Talk To Your Kids About Race
by Thea Glassman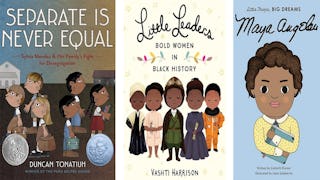 Children's books that are essential right now.
In case you missed it, Donald Trump said something truly awful and racist — again. A number of newspaper outlets are reporting that the president called African nations "shithole countries," and wondered out loud why America should admit Haitians into the country.
There's really no easy way to digest the fact that the person leading our country is a complete bigot. There's also really no easy way to explain that fact to our kids. You can, however, turn bedtime reading into a (fun) educational lesson on race, history, and trailblazing civil rights activists. Here are a few children's books that will help you do just that.
Little Leaders: Bold Women in Black History
Meet 40 black women who helped change the world. Vashti Harrison's picture book explores the extraordinary contributions of everyone from pilot Bessie Coleman to mathematician Katherine Johnson.
Rosa Parks (Little People, Big Dreams)
This illustrated book tells the inspiring story of civil rights activist Rosa Parks, and her decision not to give up her seat on a segregated bus to a white man.
Separate Is Never Equal: Sylvia Mendez and Her Family's Fight for Desegregation
After Sylvia Mendez, an American citizen with Mexican and Puerto Rican heritage, was denied enrollment to a "White's Only" school, her and her family fought back. Their tireless efforts helped end segregation in the California education system.
The Story Of Ruby Bridges: Special Anniversary Edition
Ruby Bridges was the first black child to attend a "White's Only" school in New Orleans. Her story is one of perseverance and bravery in the face of angry mobs and protesters.
This fictional tale explores a Korean child's first day of school in America, her quest to fit in with her schoolmates — and the importance of having pride in one's heritage.
I am Martin Luther King, Jr. (Ordinary People Change the World)
Brad Meltzer's picture book introduces children to Martin Luther King Jr., and his brave quest to achieve racial equality in America.
Let It Shine: Stories of Black Women Freedom Fighters
This collection tells the incredible true stories of black women throughout history who fought for equality and freedom, in the face of extreme oppression and persecution.
Josephine: The Dazzling Life of Josephine Baker
Meet Josephine Baker, an entertainer who made her way from poverty-stricken, segregated St. Louis to performing on stage at Carnegie Hall — all while fighting for racial equality along the way.
This article was originally published on