#Thighreading Celebrates Women's 'Problem Areas'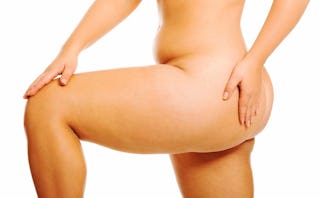 But women are increasingly fighting back. In March, a mom of three posted a pic of herself in a bikini, a move that prompted other moms to share photos of their postpartum selves in bikinis. The latest movement is the hashtag #thighreading, in which women post pics of their (imperfect) thighs, showing the world what non-models' legs really look like.
My favorites are the pics that show what the thighs have been doing lately, like getting sunburned:
Or jumped on by a dog:
Or, uh, getting baked (note bong in picture):
#thighreading, and other social media movements for body positivity, are huge leaps forward for women—especially young women—who are inundated with unrealistic and airbrushed images of women's bodies from the mainstream media. The #thighreading contributors sport the "flaws" that we all have: cellulite, stretch marks, hair, bruises and scars. The takeaway isn't that women's bodies are slim, smooth and pristine, but that they're lived in. These are women who have had experiences—which, after all, is the whole point of a body. It's not a "problem area." It's a woman.
This article was originally published on