7 Things Moms Need To Remember This School Year
by Melissa L. Fenton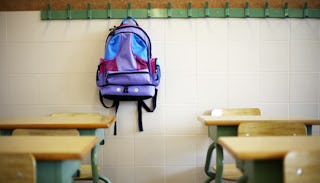 Here are the manners, personal goals, pipe cleaners, patience and other things we all need to remember as we send our kids off to school again this year:
1. School years go by in warp speed time. Yes, we all constantly hear the annoying, "It goes by so fast!" line from all the been there, done that moms. Listen up: We are not shitting you. That 5-year-old you just dropped off? He will be 17 and shaving next month. Summer may have felt like it lasted a decade, but the next nine months will be over in 11 seconds. Stop trying to rush the childhood years. As corny as it sounds, one day you might actually miss having kids to snap a picture of on the first day of school.
2. Nobody cares how you look at drop-off. Leave the blow-outs and clean, matching clothes for date night. But hey, if your thing is getting up way before everyone else, and foundation, lipstick and linen skirts with matching cardigans make you feel normal, then rock on with your fashionista self. I am perfectly comfortable driving to school in slippers and pajamas. Now, if we happen to pass each other on the road, and I can see your pink fuzzy robe? Girl, call me. I have hot coffee, donuts and plenty of DVR'd bad reality TV back at my house.
3. Save shoeboxes. And random wigs. And policemen helmets. And glue sticks. As a matter of fact, go ahead and start your stockpile of random arts and crafts supplies ASAP. You know those 72-hour food survival kits they sell? Make a craft-time one, because one night at 10 p.m., little Johnny will tell you about the huge craft project—due tomorrow—that he forgot to tell you about two weeks ago. You will have roughly five hours to produce a George Washington costume, an apple tree diorama made from a shoebox and an exact replica of the American Flag made from coffee filters, pipe cleaners, felt pompoms, and red, white and blue star glitter. Stock up on craft shit, like now.
4. It's not polite to arrive at the school's Christmas show three hours early and reserve the first two rows. Just don't. We all think our little girl is Sutton Foster, but this is not the Tony Awards, so just take whatever seat you find and graciously capture what you can. This also goes for the talent show, geography bee, spelling bee, fall concert, winter concert and spring concert.
5. School is expensive. There are class pictures; candles, cookie dough and wrapping paper fundraisers; book fairs, snacks, tissue boxes, markers… Did I mention candles? Public or private school, it doesn't matter. Do an underpaid teacher a favor. Don't moan about the huge school supply lists. Yes, as a kid, I too don't remember hauling in a wagon of huge bins of crayons and reams of copy paper on the first day, but things have unfortunately changed as far as school funding goes. If you can afford it, by all means overbuy a little. Tuck the extra supplies in a box and give them to the teacher with a note: "For the children who may need it." Trust me. There will be some.
6. Don't sign up for everything. I know you want to be the super-involved good school parent. You long to be the ultimate homeroom mom and are eager to make all those school craft goodies you pinned all summer long. Deep breaths. Don't jump right in too fast, or you will quickly get burned out, and by grade four, you'll be known as the "grumpy mom who doesn't do anything." Do what you can, when you can, and by all means, help out. But don't spend two weeks teaching yourself origami so you can volunteer for one hour helping to make paper Christmas trees. You will just grow increasingly resentful, and school volunteering will feel more like a burden than a fun privilege.
7. Don't be sad they are in school all day. Enjoy it. Be happy you get a break! Maybe you now have the time to go back to work, or college, or start that exercise program you have been putting off for years. Maybe you want to pursue a passion you gave up long ago. Maybe you are, in fact, able to spend most days helping out at the school. Maybe you just want and need to work on yourself this year. Now is the time to do it.
Whatever you decide, embrace it, and by all means, enjoy the school years. Because for real, we aren't shitting you. You think the first five years of their lives went by fast? You won't believe how fast the school years go.
This article was originally published on