Video Nails The Things No One Tells You About Pregnancy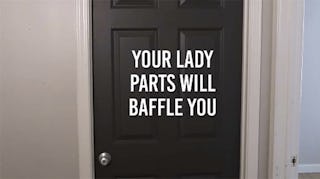 Image via Facebook/ Buzzfeed
There are some really annoying things about pregnancy — that no one tells you
It may feel like there is a lot of complaining going on out there in regards to pregnancy and how it makes you feel. But you have no idea. Those endless blogs complaining about the weird things that happen to your body when you are making a human barely even scratch the surface.
There are so many things about pregnancy that will take you totally by surprise — because they're not things that people generally love to talk about. For example, people don't love to talk about farting, or growing hair weird places, or not being able to shave their own bikini line. These are lessons you learn in real time, when you are pregnant and a gassy, bloated, uncoordinated mess.
Buzzfeed posted a video yesterday that does a great job of summing up some things nobody tells you about pregnancy.
Oh my god, I'm turning into a freaking werewolf.
I'm going to grow it out. We're going to go full jungle.
Do I smell apples?
I have to pee.
Have a friend thinking about having a baby? Show them this. It's all the weird pregnancy symptoms no one likes to talk about in a nutshell. Warning: it may make them postpone their plans.
This article was originally published on