33 Things To Do Before Going Abroad With Kids
by Sarah Hosseini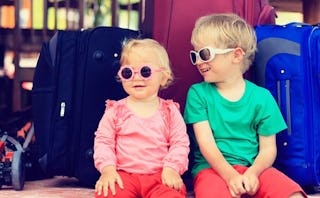 Summer travel is for suckers. I'm just gonna come out and say it.
I've done it every year. Why, oh why, do I put myself through the torture? It's the journey right?! Bah!
Road trips get testy. Plane rides get peevish. Snacks get scarce. I get stabby.
Some brave souls will travel the skies with their kids to foreign lands this summer. Crazy fucks. Oh wait, I'm one of them. That's right, this year I'm the schmuck schleppin' my kids overseas. Don't cry for me, Argentina … it's the trip of a lifetime. I know that. I'm excited, scared and second-guessing myself for scheduling such a massive trip with my two preschool-aged girls.
I just keep thinking – there's a pill for this, yes?
While I need to keep telling myself it's the trip of a lifetime, planning for it has taken just as long.
It ain't easy being a citizen of the world darlin'. And it's certainly not a walk in the park crossing the pond with preschoolers.
So let me try to make your life easier (or harder, depending on how you look at the list below) by sharing my painful prep work with you.
I've compiled a list of 33 things you need to do to prepare for your international summer vacation with kids.
Documentation:
1. Duh, I know. But hear me out. Apply for passports at least 6 weeks in advance; if not, you'll be expediting them. Research all required documents. BOTH parents have to be present at the time of passport application at the passport office. If both parents cannot attend at the time of passport services, make sure you have the required documents. Family situations that will require extra documentation include military absence, divorce and a deceased parent.
2. Bring snacks to the passport office. And more snacks. And more snacks. It could be hours.
3. Check if visas are required for the country or countries you are visiting.
4. Once you receive your passports, scan and make a copy of everyone's passport "picture" page. The one that has your passport number on it. Pack copies in your suitcase, and give an extra set to a family member or close friend that is NOT traveling with you.
5. Make a list of all US Consulates (with addresses and phone numbers) closest to the countries/cities you'll be visiting. Print a copy and put in your suitcase.
6. Make a list of family and friends' phone numbers, and pack in your bag.
7. Sign up for the Smart Traveler Enrollment Program (STEP). The program sends updates and alerts so you can adjust your travel plans if needed.
Medical:
8. Call your pediatrician or local health department to ask if any additional vaccines/medications are needed before the trip. You can also check the Centers for Disease Control website at cdc.gov.
9. Stock up on prescribed medications. Epi-pens, inhalers, insulin, etc. Get it all.
10. Buy chewable forms of every over-the-counter medication you can. In some countries you can't get Tylenol or Benadryl without a prescription first. I recommend bringing Tylenol, Ibuprofen, Benadryl, Tums and Dramamine for kids.
11. Know how your child reacts to certain medications before you give it to them on a trip to a foreign country. You do whatcha gotta do in emergencies, obviously.
12. Make a list of all doctors (presumably English-speaking) or hospitals/clinics in close proximity to your hotels. Print a copy and put in your suitcase.
13. Band-aids, Band-aids and more Band-aids.
14. Snacks for children with allergies and sensitivities.
Clothes
15. Research the weather in the country you are visiting – I feel like that's pretty standard. Pack climate-correct clothes.
16. Research the wardrobe/styles in the country you are visiting. I'm not saying your kids need to make a fashion statement. Quite the opposite actually. If you are visiting a conservative country, your children will need to have appropriate attire. Long cotton pants, shirts and scarves may be needed, especially for Islamic countries. If you're visiting Vatican City in Italy, the guards will NOT let anyone into the Vatican unless they are wearing pants (not knee-grazing skirts or shorts) and their shoulders are covered.
17. Don't pack shoes that your kids have never worn. They need to break those suckers in before hittin' the streets. You don't want to hear constant complaints about blisters and boo boos.
18. Pack a swimsuit for you and your kids. You never know when an opportunity to take a dip will come up.
19. In your carry-on, pack extra clothes for your kids for spills, accidents, etc. For parents traveling with babies, you'll need at least two extra clothing options in your carry-on for long flights.
20. Backpacks for kids to carry their SNNAAAAAACCCKKKKKSSSS. Cuz kids love snacks.
21. Sunscreen! Always, anywhere, any country, any time of year – pack sunscreen.
Cultural Considerations and Laws
22. Take note of holidays, celebrations, sporting events, religious holidays, etc. that may be occurring while you're visiting a particular city or country. Celebrations and festivals can affect availability of hotels, hours of operation, public transportation and social etiquette.
23. Check car seat laws in the country you are traveling to. Determine if you will bring one or not.
24. Are your kids able to eat snacks during the day? During Ramadan in Morocco, it could be considered rude and inconsiderate if your kid starts munching on some snacks in plain view. Sorry kids, you'd have to say "No" to snacks.
Itinerary and Accommodations
25. Plan and organize your whole trip. Every detail possible. Be ready to scrap it all when you can't translate the train schedule and end up missing it. The bus too.
26. Plan down-time into your itinerary. You know how much sightseeing your kids can handle. I suggest breaking up your plans with some kid-friendly activities that the WHOLE family can enjoy.
27. Make sure your hotel (if you're staying in one) is family-friendly. You'll be able to quickly gauge their family-friendliness on TripAdvisor.
28. Does the hotel have snacks? Just sayin'.
Electronic and Non-Electronic Entertainment for your Kids
29. Buy portable chargers. Research the best ones for your budget. Simply charge the charger before your trip, and you won't get stuck on a long international flight with a whiny kid saying, "Myyyy iPad diiieeedddd, I'm booooorrreeedddd."
30. Buy an electrical adapter. Research the electrical outlets in the country you are visiting. Then buy an electrical adaptor that suits those specs.
31. Buy activities for your children to do that are NOT electronic, just in case technology fails.
32. Buy disposable cameras for little kids. Yes, stores still sell them. If you have older kids, a digital camera or phone will be a better option. The point is – get the kids involved in making memories last. Kids loooovee taking pictures, and it helps keep them engaged.
33. Snacks can suffice as entertainment. For the love of gawd … SNACKS!
If you remember none of the things I've told you, what one item will you NOT forget to pack?
Right!
This article was originally published on