Things To Do in Albuquerque With Kids
by Amanda Svachula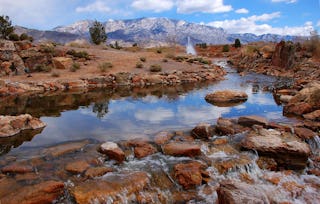 Deanna L Nichols/Getty Images
Traveling to Albuquerque, New Mexico? There are a number of activities and attractions in Albuquerque for you and the family to explore. Here are some things to do with the kids in Albuquerque.
Kid Friendly Attractions in Albuquerque
There are plenty of family-friendly attractions in Albuquerque. For a hands-on creative experience, check out Explora, an all-in-one interactive science center and children's museum.
The ABQ BioPark Zoo is a great spot to see different animal species, all within 64-acres. For a more specific, but also more squeamish animal-viewing experience, try the Rattlesnake Museum. Your kids will likely be fascinated by the snakes.
Another fun option is the Hinkle Family Fun Center, which features bumper boats, trampolines and more. The Unser Racing Museum is a fun attraction for kids who like cars.
Best Family-Friendly Restaurants in Albuquerque, New Mexico
There are plenty of restaurants with menu items for everyone in the family in Albuquerque. The Range Cafe has a quirky Western diner feel and serves an extensive kids menu with items like breakfast burritos. Grab a quick bite in the form of a huge tamale at El Modelo Mexican Foods.
Another fun, retro option is the 66 Diner. The spot, which serves huge milkshakes, is also home to one of the largest PEZ dispenser collections in the U.S.
Best Hotels in Albuquerque
Albuquerque has a selection of affordable hotels great for family visits. Hotel Albuquerque is a luxury landmark hotel, complete with a large outdoor swimming pool and patio. The Doubletree by Hilton Hotel Albuquerque is located right downtown, near plenty of restaurants and shopping.
Stay at the Best Western Plus Rio Grande Inn is a classic hotel option in the area, with a down-to-earth Southwestern feel.
Outdoor Activities in Albuquerque
There are plenty of outdoor activities in Albuquerque, which is located in a high desert. Tingley Beach has three ponds for fishing and other activities. Take the kids (at least the ones OK with heights) for a ride on the Sandia Peak Tramway. You'll catch spectacular views of the canyons.
The classic Albuquerque, New Mexico trip includes a ride on a colorful hot air balloon. Rainbow Ryders is probably the most well-known balloon company. Your kids will love floating up into the sky.
The Elena Gallegos Park is a nice outdoor space to walk around and explore, while the Rio Grande Nature Center State Park is a stand-out. There are plenty of bird-watching opportunities and hiking trails there.
Best Historical Attractions in Albuquerque
Albuquerque, New Mexico is rich in cultural history. There are plenty of family-friendly historical attractions. Old Town has been the heart of the city for years. Walk around and see ancient adobo houses.
The Indian Pueblo Cultural Center is a museum and cultural center that tells the story of the Pueblo people that originally lived in Albuquerque, New Mexico. It often hosts traditional Native American dances.
The New Mexico Museum of Natural History and Science offers insight into the scientific heritage of New Mexico, plus it offers fun kid activities like pottery-making.
MORE: Top Things to Do in El Paso With Kids
Things to Do In Chicago With Kids
Things to Do in Sacramento With Kids
This article was originally published on