Things to Do in Baton Rouge With Kids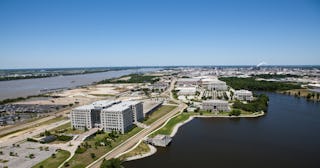 Julie Dermansky/Getty Images
Baton Rouge is a family vacation spot steeped in Southern tradition. It's present in the restaurants (and their kids menus), their hotels, and their parks. If you were thinking Baton Rouge isn't a place for kids, we're here to prove otherwise. Here are the best things to do in Baton Rouge with kids.
Kids Attractions in Baton Rouge
Louisiana Art and Science Museum is packed with plenty of hands-on activities that let students learn about everything from nanoscience to the solar system. Admission is $7.50 for kids 12 and under, and the museum is closed on Mondays.
All Star Lanes Baton Rogue offers more than 60 lanes, open seven days a week. It also offers a full mini-golf course, including a bowling-themed hole.
Knock Knock Children's Museum hosts interactive exhibits around building, books, and bubbles. Their B.R. Star Studio even encourages visitors to get active and dance.
Area 51 Extreme Air Sports is known for its enormous collection of trampolines. But there are so many different ways to get airborne at Area 51, including a ninja obstacle course.
Skate Galaxy is named for its old school roller rink. But it's also a spot to enjoy laser tag and a rock wall.
Best Restaurants in Baton Rouge for Kids
Rocco's New Orleans Style PO Boys & Cafe serves up their titular sandwiches in every imaginable iteration. All kids meals come with fries and include entrees like Baby Cat Daddy Fish and Spanky's Shrimp.
MJ's Cafe is your go-to spot in Baton Rouge if you're looking for vegetarian or vegan options. Their selections of soups and salads show their commitment to their tagline "plant-based goodness."
Capital City Crawfish & Cajun Specialties is dedicated to serving the best Louisiana seafood. They offer their favorite dishes in platter and appetizer sizes to satisfy any appetite.
Curbside Burgers offers kids meal options under $6 that all come with fries and a beverage. For the adventurous burger fan, there are plenty of options beyond beef, including lamb and veggie.
Mason's Grill pairs every entree ordered on the kid's menu with a free ice cream sundae. And on Monday, kids eat free!
Rock N' Pops lets patrons decorate their own popsicles with toppings like cookie crumbs and drizzled chocolate. Each dessert creations looks unique!
Best Hotels in Baton Rouge for Kids
Hotel Indigo Baton Rouge Downtown is a pet-friendly spot with a fully stocked fitness center. Guests can also enjoy dry-cleaning pick-up.
Residence Inn by Marriott Baton Rouge Towne Center offers guests free breakfast and outfits the rooms with kitchenettes. The hotel also features an outdoor pool and on-site golf.
WATERMARK Baton Rouge, Autograph Collection gives their guests free bottled water and supplies each room with a minifridge. Cribs are also available for guests to borrow.
Staybridge Suites Baton Rouge-Univ At Southgate gives guests options, with free breakfast and full kitchens in the rooms. They also offer a fitness center and an outdoor pool.
Outdoor Activities in Baton Rouge for Kids
BREC's Bluebonnet Swamp Nature Center is a place for kids to get up close to local animals in their natural habitat. There are also plenty of trails to explore.
Baton Rouge Zoo is home to tigers, pythons, and plenty of owls. Kids one and younger get to visit the zoo for free.
LSU Hilltop Arboretum is a peaceful natural oasis full of trees and wildlife native to Louisana and beyond. Enjoy majestic canopies, or chill out in the tall grass.
Best Parks in Baton Rouge for Kids
Perkins Road Community Park is outfitted with more entertainment options than just a playground. The park also boasts a rock climbing wall and a skate area.
City-Brooks Community Park features its own dog park and splash pad. There are also opportunities to fish, golf, and use the tennis court.
MORE: The Best Family Attractions in Arlington
Plan a Family Vacation in Mesa
The Perfect Attractions for Kids in New Orleans
This article was originally published on