Things to Do in Branson, Missouri With Kids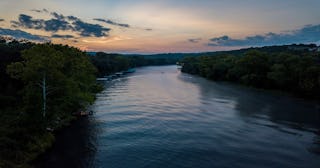 Devon Schreiner/Pexels
Branson, Missouri, is known as a great family-friendly travel destination. Located in the Ozarks, it's practically a mecca for unique kid-friendly attractions, such as the World's Largest Toy Museum, and a ton of outdoor activities. Here are a few things to do with kids in Branson.
Kid-Friendly Attractions in Branson, MO
There are a ton of fun attractions to visit with kids in Branson, Missouri. A top attraction in Branson is Silver Dollar City. Here, you will find activities to please each of your kids, including an 1880s-era theme park and a waterpark. There's nothing like a blast to the past!
Caught with a rainy day? You should visit Titanic Branson, an interactive experience featuring 400 artifacts from the Titanic and its passengers. You are given a name of a passenger upon entry and then at the end, you discover whether your passenger lived or died. This does feature somewhat tough subject matter, so you might want to make a judgement call on whether you want to bring your kids or not.
Another fun thing to do is the Hollywood Wax Museum Entertainment Center because you can walk the red carpet with your kids and see figures of celebrities including Charlie Chaplin and John Wayne. Then, inside the entertainment center, there are also fun interactive activities, like a winding mirror maze. Similarly, Ripley's Believe It or Not! has a set of even more bizarre interactive experiences, all packed into an Odditorium. With eight galleries, the Odditorium contains weird artifacts (like a shrunken head) your family won't be able to get enough of.
If you're not tired of the fun, wacky attractions, your final stop should be the World's Largest Toy Museum. The museum has over 1 million toys, some dating back to the 1880s. Just make sure to warn your kids that no one makes toy cars as delicate as those anymore.
Family-Friendly Restaurants in Branson
https://www.instagram.com/p/Byn8CUglkYs/
To go with its kid-friendly attractions, there are a lot of family-friendly restaurants in Branson, Missouri, serving a variety of cuisines. Pasghettis has great Italian food and even better décor. There is a giant mockup of spaghetti and meatballs on the outside of the restaurant–a funny family photo opportunity!
Another great food option is Billy Bob Dairyland, which has a retro diner vibe and serves delicious milkshakes and burgers on retro red and white checkered paper.
Craving really good pizza? Rocco's New York Style Pizza is a local favorite and has tasty spins on the delicious, large New York slice, like Spicy Chicken Ranch and Barbecue Chicken. Gettin Basted is a great dinner option and is a go-to for some Southern barbecue.
Family-Friendly Hotels in Branson, MO
As a family-friendly vacation destination, there are many great hotels and resorts to stay at in Branson, Missouri, many with state-of-the-art kid-friendly amenities.
Above all, the Keeter Center is one of the best options in the city. It was voted one of the top small hotels in the U.S. and has a fantastic bakery for sweets. If that doesn't sell you, it also has a creamery where students work, churning ice cream flavors like Salted Caramel Custard and Bobcat Crunch, a chocolate creation with toffee bits and almonds. If you're staying there, you can go back more than once.
Another great resort is the Lodges at Timber Ridge because it has a ton of amenities, including a 10,000 square-foot indoor waterpark called the "Splash-a-Torium" and a game room. The only drawback is that you might not be able to get the kids to leave the hotel. Similarly, the Lodge of the Ozarks has a rustic, all-encompassing vibe. The Hotel Grand Victorian has a nice outdoor pool and a fireplace for colder nights, along with afternoon tea and cookie time—fitting with the hotel's name.
Kid-Friendly Outdoor Activities in Branson
In the Ozarks of Southwestern Missouri, Branson has its fair share of kid-friendly outdoor activities and attractions. Your kids will love riding the Branson Train, which goes on a 40-mile ride through the Ozarks.
Another great activity is the Butterfly Palace in Branson, MO. You can feed the butterflies, drawing them into your hand with the center's complimentary nectar flower. To see bigger animals, head to the Branson Promised Land Zoo, a fun attraction for kids of all ages. The zoo has over 75 acres of trails.
Just a short 15-minute drive outside of the city is Lake Taneycomo, which has some of the best trout fishing in the world. Sheperd of the Hills, an experience designed around the book of the same name, has even more outdoor activities. Its adventure park has zip-lining and Lil' Pete's Playland, an experience with a petting zoo, mining trough and other imaginative experiences for the youngest members of your family.
Best Spots in Nature to Visit in Branson, MO
https://www.instagram.com/p/BzWZUk_hGma/
After visiting the city's many attractions, there are many gorgeous natural spots to visit in Branson, MO. Table Rock Lake is by far the most popular. You can rent a boat to take onto the lake or go bass fishing (or both).
Another beautiful natural spot is Dogwood Canyon Nature Park, which has activities including biking, horseback riding, and a wildlife tram tour—a relaxing option after an eventful day. Lastly, you will want to visit the Ruth and Paul Henning Conservation Area. Pack a picnic, a blanket, and enjoy the quiet of the area filled with forest.
MORE: What to Do in Surfside, Florida with Kids
Best Things to Do in Asheville with Kids
Top Things to do in Winston-Salem with Kids
This article was originally published on