Things to Do in Buffalo With Kids
by Nikki M. Mascali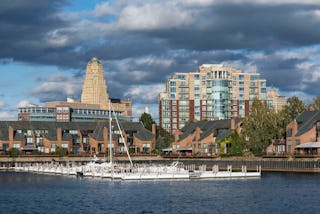 John Greim/Getty Images
Buffalo is the second-largest city in New York. But, don't think it comes in second as a family-friendly vacation destination. It may be super-close to beautiful Niagara Falls, but Buffalo has a lot to offer on its own, too. Check out our list of the best things to do in Buffalo with kids.
Kids Attractions in Buffalo
With more than 1,000 animals, the Buffalo Zoo is one of the best things to do in Buffalo with kids. Not only is it the third-oldest zoo in America, but the zoo is a major conservation and educational facility, too. Get a group together to participate in a weekend Zoo Snooze, which sounds super fun.
If your kids not-so-charmingly ask, "Why?" all. the. damn. time., the Buffalo Museum of Science might get you off the hook for answering. Interactive exhibits cover space, dinosaurs, bugs and everything in between.
Theatre of Youth in the historic Allendale Theatre offers kid-friendly — and sensory-friendly — performances and workshops. The upcoming season includes "Pete the Cat," "Mr. Popper's Penguins" and "Go, Dog, Go!"
The kids can get serious about playing at Explore & More Children's Museum. There are four floors of hands-on learning and immersive play exhibits covering regional history and much more.
An art museum probably isn't high on your to-do list while on a family vacation in Buffalo. But, the Albright-Knox Art Gallery should be. It has an amazing slate of family-friendly festivities. For example, pay $5 admission for the whole family the second Sunday of every month. In addition, there are interactive art activities throughout the museum, story time workshops that feature the artwork on display, monthly stroller tours and more.
Best Restaurants in Buffalo for Kids
Anchor Bar invented Buffalo wings in 1964, so no trip to Buffalo with family is complete without tasting "the original chicken wing." They're even on the children's menu, too, alongside fingers and fries, spaghetti, pizza logs and a hot dog. Of course, there's lots of other things on the menu if wings aren't your family's thing.
Another Buffalo delicacy is beef on weck, which was around way before wings. This roast beef sandwich is served on a salty kimmelweck roll and can be found on many menus. But, Schwabl's Restaurant has one of the best. The mainstay eatery also has kid-friendly fare like chicken fingers and cheese sandwiches … and a pretty great cocktail menu, too.
While exploring Buffalo's waterfront in Canalside, hit Clinton's Dish for a quick snack, soft serve or adults-only drink. The menu features hot dogs, burgers, fries, dino nuggets, soft pretzels and more.
For a sweet treat, head to Churn Soft Serve & Coffee. This offshoot of Lloyd, the city's first food truck, offers an array of churro sundaes, cones and "churned up" blends. You adults can create your own concoctions, too. Plus, brews from local roaster Tipico Coffee will power you through a day or night with your kids.
Best Hotels in Buffalo for Kids
Embassy Suites by Hilton offers free made-to-order breakfast, plus free drinks and snacks at a nightly reception. Plus, each room is a two-room suite, and there's an indoor pool. That'll come in handy if visiting Buffalo in winter.
Hotel @ The Lafayette is a historic and beautiful landmark. It has a game room and on-site dining with a good kids menu. Some suites have separate bedrooms and two bathrooms for when you need some privacy. Girl power bonus: the hotel was designed by Louise Blanchard Bethune, the nation's first professional female architect.
The Westin Buffalo has several room options to fit families of any size. There's also an on-site convenience store, two restaurants and lots of eateries nearby. Plus, the Westin Kids Club provides a guide to local activities, which they can write all about in the accompanying travel journal.
Outdoor Activities in Buffalo for Kids
The Olmstead Park System is a beloved part of Buffalo. Designed by Frederick Law Olmsted and Calvert Vaux (the masterminds behind Central Park in New York City), the system encompasses 850 acres throughout the city. Delaware Park is the biggest in the system. It boasts playgrounds, running and walking paths, gardens and sports fields and courts. In summer, you can also rent rowboats on Lake Hoyt or attend free Shakespeare in Delaware Park performances.
Located on Lake Erie, the Buffalo and Erie County Naval & Military Park is a museum that features several decommissioned U.S. Navy vessels your family can tour. It also has military artifacts, helicopters, aircrafts and a tank.
Enjoy Buffalo's waterfront right on it with BFLO Harbor Kayak. It has single and tandem kayaks and stand-up paddle boards. You can rent hourly or for half-days Monday through Wednesday. They also offer guided tours.
Hit Larkin Square for lots of family-friendly fun in Buffalo. This open public space offers events like Food Truck Tuesday, live music and more.
Tifft Nature Preserve is minutes from downtown Buffalo. The kids can fish, or tire themselves out exploring five miles of trails and boardwalks. In winter, rent snowshoes or cross-country ski there.
Near Tifft is Buffalo Harbor State Park, where the family can also fish, bike, canoe, kayak, wind surf, or play in a nautical-themed playground.
The Spirit of Buffalo is a 73-foot vessel that sails out of Buffalo Harbor. She offers day and evening sails the whole family will enjoy. But, on Saturdays and Sundays she's overtaken by pirates — and kids. They can hear pirate stories and music, have their faces painted and embark on a treasure hunt.
Even More Things to do In Buffalo with Kids
A day trip to Niagara Falls is a must as the natural wonder is just 17 miles from Buffalo. Aside from taking in its natural beauty, there are tons of family-friendly things to do in Niagara Falls. If you have a passport, it's worth crossing into Canada to make even more of the day. But, do try to fit in a Maid of the Mist or Cave of the Winds tour, because they're both really unforgettable—and wet.
The Martin House in Buffalo is considered one of Frank Lloyd Wright's best works. There are several tour options for this landmark. In addition, there are free Architecture Adventures for kids of all ages as well as summer camp programs.
Be sure to take in The Freedom Wall on the corner of Michigan Avenue and East Ferry Street. The mural features 28 incredible portraits of civil rights leaders like Harriet Tubman, Martin Luther King Jr., Malcolm X and Rosa Parks.
If anyone in your family is into sports, they'll love hitting up a Buffalo Bills football game or a Buffalo Sabres hockey game.
MORE: A Guide for Visiting New York City With Kids
Great Things to Do in Philadelphia With the Family
What To Do On Your Family Vacation in Kansas City
This article was originally published on