Things To Do in Cancun With Kids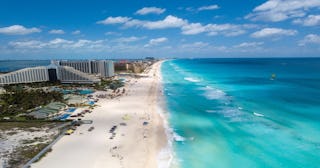 Daniel Nieto/Pexels
Family-friendly resorts with clean beaches, ginormous swimming pools, fountains, and water slides will get your family vacation in Cancun, Mexico, started immediately. Venture out of the resort for dolphins, sea turtles, exotic animals, natural wonders, and even friendly pirates.
Mexican comfort food and drinks in frosted shapely glasses. Go ahead, put an umbrella in everybody's drink. You're in Cancun! Here are our favorite things to do in Cancun with kids.
Best Activities for Kids in Cancun
Kids will go wild seeing the turtles up close at Marine Turtle Observation in Akumal Beach. Translated from the Mayan language, Akumal means place of the turtles. Your family will have a biologist guide and the opportunity to swim in what is called a cenote, a natural sinkhole filled with crystal clear water. Snorkeling equipment and snacks included in this memorable family vacation activity.
Your visit to Ventura Park will most like likely be the wettest and happiest day of your Cancun family vacation. This amusement park is made up of 7 different themed worlds including Wet 'n Wild waterpark, Fun World with classic amusement park rides, and Dolphinaris!
Dolphinaris will give your family the most memorable interactive experience with dolphins. There's swimming, kissing, petting, and feeding these silky smooth mammals. There are different dolphin experiences for many ages and abilities. Swimming, kissing, petting…sounds like our teenage years. But dolphins make it so much better.
Interactive Aquarium has something unique for your more adventurous teens. The Sea Trek is a specially developed bubble for your head that allows you to breathe and see just like on land. Wearing this cool bubble helmet lets your family (ages 13 and older) walk through a giant aquarium!
Along with certified divers, you'll interact with shad, orange tail triggerfish, sea robins, pepper surgeon fish, moorish idol, African surgeon fish, blackspotted puffer, filefish, foxface rabbitfish, ring-tailed surgeon fish, cownose ray, yellowtail kingfish and longfin spadefish. Woah.
The foxface rabbitfish sounds cute but keep that pufferfish away from us. Those things are freaky, Plus, we're puffy enough.
The SubSee Explorer at AquaWorld is the best way for kids and non-swimmers to explore a coral reef! The Paradise Subsee is a glass-walled submarine that gives you a true underwater experience. Your family will booard a fast boat out to the Punta Nizuc Reef. Then you'll board the sub and go down below to the air conditioned viewing area to see the different species of coral reef, marine life and exotic fish. A guide will be right there to answer all your amazed kids' questions.
While you're enjoying the view from the submarine, you'll also be able to see part of the Cancun Underwater Museum. This amazing Cancun eco-project combines art with nature. Life sized underwater statues are made with marine clay and promote the growth of coral as well as providing habitat for fish and marine life. Through the large windows of SubSee, you'll see the statues named Veinman, Resurrection, The Speaker and Self-Immolation. The imagery is really incredible. All the seats are a great view, ruling out underwater shouts of "I can't see!"
Kids Attractions in Cancun
The Jolly Roger Pirate Ship gives your family a taste of pirate life, but with a chef-created dining experience eaten below deck in blissful air conditioning, there no need to go all the way back to the 1500s.
Bar wenches are happy to get you a drink from the two fully-stocked bars while you wait for the spectacular pirate show on the Jolly Roger to begin. Combine the very kid-friendly pirates interacting all around and the professional sound, lighting and special effects…This is a must-do for families with smaller kids in Cancun. Sorry, Johnnie Depp not included.
Crococun Zoo is a small sanctuary for local animals and a favorite of the surrounding areas. Take an hour-and-a-half guided tour for hands-on family fun experiences like holding a snake, parrot, and even a baby crocodile. Make sure you look up into the shady trees to see curious spider monkeys as well.
There are over 200 crocodiles from babies to huge adults and a chance to safely walk through a crocodile enclosure if the mood strikes. Maybe strike isn't such a great word to use but you get the picture. Your guide will keep your family safe.
Family Excursions in Cancun
Xcaret Park is the spectacular nature park in Playa del Carmen, about an hour south of Cancun. Spend the day or stay overnight at this destination for family adventure and fun. There are plenty of family-friendly attractions within the park area. Swim in three underground rivers that come from the heart of the earth. For a more relaxing way to explore the rivers, especially with small kids, take a ride on the Paradise River Raft to see the tropical jungle all around.
There's lots of kids activities here to keep the kids communing with nature. Children's World is giant splashing playground oasis for kids 12 and under. Kids love the butterfly pavilion and the coral reef aquarium. Explore the archaeology of the Mayan Ruins here for a memorable family activity. Add in shopping, live music, and authentic food for an immersive family vacation.
Family-Friendly Resorts in Cancun
There are so many great places to stay during your family vacation in Cancun.
Grand Residences Riviera Cancun will ruin you for life. When you go back home, your memories of the welcome Margaritas and Bulgari bath toiletries will haunt you. Your kids will expect the fancy juice drinks, personalized cookies, and ice lollipops just like they got on vacation. You'll keep hoping to find another complimentary bottle of Mezcal on your nightstand.
Activities like a supervised kids club, beach and pool games, yoga, and tennis. A spa, multiple bar and restaurants, and a fitness center. This resort makes leaving the hardest thing you'll do on your Cancun family vacation.
Now Sapphire Riviera Cancun Resort Puerto Morelos has all you'll need and more. The Explorer's Club for kids ages 3-12 allows the adults some time alone. The staff here are all Red Cross certified as well so you can relax on your own for a little while at least. There are plenty of activities and excursions for the whole family.
The Fiesta Americana Resort has nightly entertainment, elastic waistband-worthy buffets, a serene pool and beautiful beach. The staff really does treat you like family. But better. Much better.
Best Restaurants in Cancun for Kids
Marakame Café is open for breakfast, lunch and dinner. They even deliver. There's an outdoor patio as well as AC indoors and a small indoor playground for the kids. A grande menu of pasta, seafood, salads, pizza and a fully stocked bar. Because Cancun.
If you looked up "ultimate Mexican restaurant" in the dictionary, La Parrilla in downtown Cancun would be the first thing you'd see. Yes, we know kids don't even have dictionaries anymore. But they will have a great time in the family-friendly atmospheres surrounded by festive colors, fountains, balconies, and amazing food. Bedtimes be damned! Stay for the live Mariachi music from 7:30 p.m.-1 a.m. every night. Watch your children dance while you choose from a list of over 50 tequilas.
Just because Carlos & Charlie's can get wild at night, doesn't mean it's not a great place for lunch or earlier family dinners with the kids. Stuff your family with nachos and some virgin strawberry margaritas when you visit this Cancun landmark.
Mextreme screams with primary colors, fresh air, and fresh food right in the middle of Cancun's festive downtown. The menu has colorful kid-friendly choices for breakfast, lunch and dinner, and a whole bunch of fun. Waiters put on little shows, do magic tricks and even prepare guacamole right at your table. Party poopers are not welcome here.
This casual seafood restaurant is located smack in the middle of the Hotel Zone but it's also a local favorite. El Fish Fritanga is a great choice when you need a break from the Mariachi music and bright color overload. With a view of the lagoon, your family's collective nervous system can take a breather. Order some insanely fresh fish tacos, a tropical drink, and watch the kids in the little play area.
MORE: Boston With Your Little Beans
This article was originally published on