The Best Things to Do in Chandler with Kids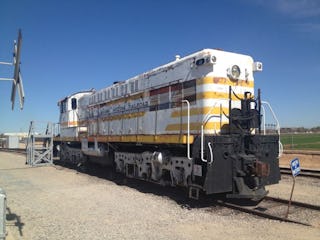 Arizona Railroad Museum
Chandler, Arizona, is a fantastic year-round family-friendly destination with plenty of things to do with kids. Which means you can spend a lot of time outside in this Phoenix suburb, but the weather in Chandler can be hot. Like, brutally hot. Especially in summer when mid-90s or higher is the norm.
As a result, there are plenty of indoor attractions the whole family can enjoy. More importantly, there are also plenty of waterparks and splash pads to keep everyone cool. Keep reading for some of the best things to do in Chandler with kids.
Places to Stay Cool in Chandler with Kids
Because of the high temps, you'll probably have cranky kids on your hands at some point. Luckily, places to keep cool in Chandler with kids are never too far away.
For just a few bucks, dive into one of Chandler's many pools, splash pads or aquatic centers. The Desert Oasis Aquatic Center has a pool, waterslide, drop slide, kiddie slide and more. In addition, there's a sand volleyball court, sand playground, concession stand and turf areas.
Amenities at Mesquite Groves Aquatic Center include a lazy river, family play pool, toddler slides, two waterslides, a spilling 752-gallon bucket, lap pool and more. Similarly, Hamilton Aquatic Center has diving boards, a zero-depth play pool and an interactive water play feature.
For an even bigger splash, hit Golfland Sunsplash in nearby Mesa. There are dozens of waterslides and thrill slides for all ages. For instance, the toddler tadpole pool for kids under 7 has two soft slides and is just one-foot deep. In addition, there's mini golf, go-karts, bumper boats and hundreds of arcade games.
Indoor Kid Attractions in Chandler
Jungle-themed Makutu's Island is an indoor play center where your wild bunch can let loose. They can climb, zip line and explore the indoor tree's tunnels, tubes and slither down its snake slide. Plus, there's a special toddler zone for kids under 3.
One of the most vibrant things to do in Chandler with kids is visit the newly opened Crayola Experience. There are 19 interactive and ADA-compliant activities to get everyone in the family creating and imagining.
Gravity Extreme Zone is another indoor attraction in Chandler for kids. They can bounce, climb and bungee all over this trampoline and adventure park. Adults and kids 12 and up can camp out in the VR station.
Kids 12 and under can bounce all over the world at Bounce-a-Rama. This indoor theme park has inflatable versions of the Roman Colosseum, Eiffel Tower, NYC, San Fran and more. Plus, there's an arcade and yummy food options.
Giggles is a wooden indoor playground in Chandler for toddlers and preschoolers. It has a treehouse, slides and trampolines. There's a microwave and sink so you can bring your own snacks, and free coffee and Wi-Fi. Note: kids must wear their own grip socks or purchase a pair at the front desk to play.
For even more indoor fun, get putting at Swingin' Safari Mini Golf. The whole family will love this glow-in-the-dark course, which is wheelchair accessible and has ADA clubs.
Best Restaurants in Chandler for Kids
There are a lot of options for the best restaurants in Chandler for kids. Artisanal restaurant and bakery Wildflower is definitely one of them. Everything sounds delicious. Its ample kids menu includes milk or soda, fresh fruit and a chocolate chip cookie with lunch or dinner.
Black Bear Diner has a huge menu for adult bears and their cubs. And its portions for breakfast, lunch, dinner and dessert are just as big. Plus, it makes its own bear claws, which you can have as dessert — or as French toast.
For Southwest fare, head to Z'Tejas. There isn't a specific kids menu, but even your fussiest eater is sure to find something yummy among the tacos, burritos and other offerings. The weekend brunch looks pretty great, too, and has a few options for kids.
American Way Market's menu has a wide array of smokehouse meats, sandwiches, salads and baked goods. It also has a huge selection of vintage and specialty sodas.
Go to Cheddar's Scratch Kitchen for some homemade comfort food. There's a nice-sized kid's menu and gluten-free options. And it has a big cocktail and margarita menu because you look like you could use (at least) one.
Best Hotels in Chandler for Kids
Crown Plaza Chandler is the former San Marcos, a landmarked Mission Revival-style hotel dating back to 1912. It has an outdoor pool, salon, on-site laundry and three restaurants.
Each suite at Staybridge Suites has a full kitchen with plates and utensils and free internet. There's also laundry and a pool.
Element Chandler is in a great location near the Chandler Fashion Center shopping mall. Some rooms have pullout sofas. You can borrow bikes to explore town or relax around the firepit. There's a 24-hour pantry for snacks and a healthy breakfast bar.
Outdoor Activities in Chandler for Kids
If you can brave the Arizona heat, take a hike at South Mountain Park and Preserve. It has 51 miles of trails, three mountain ranges and amazing views from Dobbins Lookout. Just be sure to keep everyone hydrated!
Tumbleweed Park's 2.5-acre themed playground Playtopia! pays homage to Chandler's heritage. The kids can walk on top of a giant (fake) gila monster in Critter Land, ride through City Land's streets and play on the slides and bridges of Farm Land.
If visiting Chandler with kids in early March, don't miss the annual Ostrich Festival. This carnival celebrates the area's ostrich ranching past with a parade, live music, rides, games and food. And, yes, there are exhibits, races and activities starring the fest's namesake flightless birds.
If you have a mini railfan in the family, they'll love the Arizona Railway Museum. They can walk in and around vintage train cars and locomotives and check out rail artifacts. Note: Since most of this is outside, it closes during the summer months due to the hot Arizona weather.
Take a trip around Desert Breeze Park on the vintage Desert Breeze Railroad. Be sure to hop on the carousel and visit the hummingbird habitat, too. The park also has a lake and sports areas.
Got little sluggers? Catch a Cactus League baseball game. More than a dozen MLB teams call the Phoenix metro area home during spring training. Games start in mid-February at 10 stadiums that are a short trip from Chandler.
MORE: Family-Friendly Things to Do in Mesa
10 Kid-Friendly Things to Do in Scottsdale
Visit Disneyland, Then Do These Things in Anaheim With Your Kids
This article was originally published on