Things to Do in Chattanooga With Kids
by Evan Levy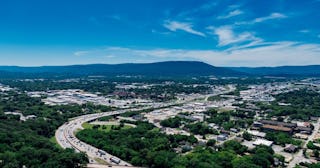 Kelly Lacy/Pexels
Chattanooga, TN offers plenty to explore for outdoor-loving families—but there's also plenty to draw you indoors as well. Check out what we've found for family fun with our guide on the best things to do in Chattanooga with kids.
RELATED: The Best Electric Riding Scooters For Everyone (Yes, Even You)
Family-Friendly Hotels in Chattanooga, TN
Looking for a family-friendly hotel that will accommodate your brood? Look no further—we've got plenty of options.
At the Chattanooga Choo Choo Historic Hotel, you can stay in a hotel room, but guys—you can also stay in a converted Pullman Car. You can stay in a TRAIN, and if that doesn't make your kids shriek with glee, we don't know what will. It's all part of a reconstructed complex, part of which was the train terminal, that now includes a heated indoor pool, free shuttle service, and a dog park.
At the DoubleTree by Hilton Hotel Chattanooga Downtown, the name may be a mouthful, but so are the chocolate chip cookies, one of their signatures. The hotel features a fitness center and outdoor pool, and it's close to area attractions like the Aquarium, the Hunter Museum of Art, and the Tennessee River. A family package is offered, so be sure to check it out.
The District Three Hotel, an Ascend Hotel Collection Member, offers a free hot breakfast, a pool, and a fitness center, plus a prime location in the middle of downtown, which is somehow both historical and trendy. You're right near restaurants, shops, and attractions like the Discovery Museum and the Aquarium. Plus, it's pet-friendly—why shouldn't Scooter get to enjoy Chattanooga, too?
There are enough dining options at The Chattanoogan Hotel that you could probably eat all your meals there. There's also a spa and an outdoor fire pit, so you could work out, and then go roast a marshmallow (or vice versa). You'll also find in-room work stations, plus all-new beds and linens so you can nod off after your marshmallow, of course.
At the Holiday Inn & Suites Chattanooga Downtown, you're right downtown, and can enjoy both indoor and outdoor pools, a fitness center (and a business center), plus proximity to attractions like the Creative Discovery Museum. Fun Fact: they're the only hotel in downtown Chattanooga with Tesla chargers.
Family-Friendly Activities in Chattanooga, TN
There's so much for families to do in Chattanooga! From a car museum to a guitar museum, you won't run out of ways to enjoy Chattanooga as a family.
How do you feel about tires (apart from needing them on your car)? This is not a rhetorical question, as you will see when you visit the Coker Tire Museum. The company provides tires for vintage vehicles, and at the museum at the company's headquarters, you can go on a free guided tour to see cars, motorcycles, engines, and artifacts. (There's even a plane or two.) Open Monday – Friday, 10 a.m. to 5 p.m. Free tours twice daily. Read reviews here.
The Tennessee Aquarium offers both River Journey and Ocean Journey exhibits; in the former, look for frogs, turtles, and otters. You'll probably want to spend more time in Ocean Journey, which offers up sharks, penguins, jellyfish, and reef fish. They also offer a wide variety of family programs, from drop-in time for toddlers (crafts, games, animal encounters) to family sleepovers. Open daily, 10 a.m. to 6 p.m. Adults, $34.95; child, $9.95. Read reviews here.
Songbirds Guitar Museum features every type of guitar you can think of-–and probably some you haven't. They're grouped methodically in categories ranging from brand to time frame and linear progression. You'll see acoustic, electric, jazz and bass, showcasing music history from the 1930-1970s. Don't forget to check out the Player Experiences: guests can actually hold—and play—some of the instruments. Open Monday-Wednesday, 10 a.m. to 6 p.m.; Thursday-Saturday, 10 a.m.-8 p.m.; Sunday, noon-6 p.m. Individual tickets, $12; family four-packs, $45. Read reviews here.
The Creative Discovery Museum is a great place for some family fun. They offer a series of rotating exhibits, and also some permanent ones, like the Honey Bee Observation Hive and the Culinary Corner, at which kids can make snacks using produce from the rooftop garden. There's a three-level tower that offers great views of the city, and a library in case everyone just wants to curl up and read. Open daily, 10 a.m. to 5 p.m. General admission, $14.95; seniors (over 65), $11.95; members: free. Read reviews here.
The Chattanooga Zoo may be small, but it's just the right size for a family outing. You can have a "wild encounter" (a behind-the-scenes interaction with one of the animals, like a meerkat or a red panda), hang out at a Keeper Chat, or take your little ones to Zoo Tales (story time). They also offer ongoing family events, like a teddy bear check-up with real vets. Open daily except Thanksgiving, Christmas and New Year's. Adults, $10.95; seniors (65+), $8.95; children (ages 3-5), $7.95. Read reviews here.
Family-Friendly Outdoor Activities in Chattanooga, TN
Chattanooga is the place for you and your family to get outside—you can ride the rails or hike the trails. Check out our list, below!
Lookout Mountain Incline Railway is a funicular railway system—it's operated by cables, with ascending and descending cars counterbalanced. It's a one-mile long single track, except for a loop in the middle. The grade is 72.2 percent—almost straight up. The ride offers amazing views, with more from the observation platform once you reach the top. At the bottom you'll find shops and restaurants, if you need to fuel up for the trip. Open Monday-Sunday, 8:30 a.m.-9:30 p.m. Adults/seniors, $15 roundtrip; children, (3-12), $7 roundtrip. Read reviews here.
The Tennessee River Park includes 150 acres along the Tennessee River, and there's something to see or do pretty much all along the way. The park features playgrounds, public art, a fishing pier, historical markers, and a paved walkway that's also used for biking, skating, or jogging.(There's also a rowing center and several kayak and canoe launches. Open daily from 6 a.m. to 10:30 p.m. Read reviews here.
The Reflection Riding Arboretum and Nature Center calls itself an "environmental hub," and it's a kind of your one-stop-fits-all for outdoor learning. They have "animals ambassadors"—29 animal species native to East Tennessee that help kids learn about the natural world (we're not sure what makes them ambassadors). They also have a series of gardens (ferns, herbs, wildflowers), as well as an arboretum with more than 140 kinds of trees. Closed Mondays; open Tuesday-Friday, 9:30 a.m. to 6:30 p.m.; Saturday and Sunday, 11 a.m. to 6:30 p.m. Donation-based admission: adults, $10; children, $7. Read reviews here
While the waterfront Coolidge Park offers lots of great outdoor play, one of the prime attractions is the carousel. Dating back to 1893, it has 52 hand-carved animals and carved gold benches. If anything ever screamed "photo op," this is it. The park also offers an interactive pay fountain, a pavilion, and plenty of space to run around. Parents—that applies to you, too. Open Monday-Thursday, 11 a.m. to 7 p.m.; Friday, 11 a.m. to 8 p.m.; Saturday, 10 a.m. to 8 p.m.; Sunday, noon to 7 p.m. Admissions is $1 for adults, free for children under 2 (with paid adult). Read reviews here.
Looking for a nice place to take a walk? Consider Audubon Acres, where you can slow down and just hang out among the trees and flowers. It's the headquarters of the Chattanooga Audubon Society, and features both outdoor trails and a small museum. They also have a visitors' center and picnic tables; a picnic is always a good idea. And check out the restored cabin that was most likely built in the mid-1700s. Open Monday-Saturday, 9 a.m. to 5 p.m.; Sunday, 1 p.m. to 5 p.m. Admission: adults, $6; seniors, $5; students (13-17), $5; child (5-12), $3. Read reviews here.
Family-Friendly Restaurants in Chattanooga, TN
Let's eat! Chattanooga is certainly the place to do it, from barbecue to pancakes and everything in between, here are some of the best ways to chow down in Chattanooga.
In the mood for a monster pancake? At Aretha Frankenstein's, you can choose from pancakes, omelets, and biscuits for breakfast. And if you love the pancakes, you can buy the mix to go. Lunch brings quesadillas, burritos, and sandwiches. Everything is prepared to order, and the prices are reasonable, but the funky spot is small, so be prepared to wait. Read reviews here.
At Taco Mamacita, consider the taco with two sides. At $9.99 it's a great deal, plus you've probably never had tacos like some of the ones on offer: Perhaps one with jerk chicken and mango salsa? Or maybe fried chicken with pickles and honey hot sauce? You can get other stuff (in the section called, um "other stuff") such as enchiladas or Peruvian chicken. Sides include Chipotle turnip greens and Mexican street corn. Read reviews here.
When you go to Champy's, you will order the fried chicken, because that's why you're there. You can order from "Snacks for the Family" (their idea of a snack seems to be 20 pieces of chicken). You can also get it as a meal, where it comes with sides. Sides include whole jalapeno papers, potato salad, and baked beans. May as well give in and check out the dessert menu—homemade cakes and pies are calling your name. Read reviews here.
If you're the kind of person who could happily eat breakfast all day, the Blue Grass Grill will happily oblige. You can go for the simple ("eggs with meat") or the slightly fancier (frittatas and breakfast burritos). More of a sandwich person? They've got gyros and club sandwiches, and you can also get soups and salads. They also offer gluten-free options. Read reviews here.
We don't know about your relatives, but this Uncle Larry serves up fried fish. And yes, there really is a Larry. At Uncle Larry's, fried catfish and whiting are the specialties, but you can also order mac-n-cheese, pork chops, fried okra, and chili. Save room for dessert(s)—Butterfinger cheesecake, Red Velvet Cake, and banana pudding. Notice we said "and," not "or"— have them all! Look for the sign in the window: "Fish so good it will smack you." Read reviews here.
Barbecue This: one of Chattanooga's claims to fame is its barbecue. Mission Barbecue serves up brisket and pulled pork and chicken, plus sides like baked beans and mac-n-cheese. Get the ribs at Sugar's Ribs, along with spicy vinegar slaw and cornbread. And at Rib & Loin, they smoke their own meats, which include brisket, pork shoulder, chicken, and ribs. Save room for cobbler or banana pudding.
This article was originally published on