Things To Do in Chesapeake, Virginia With Kids
by Erica Landis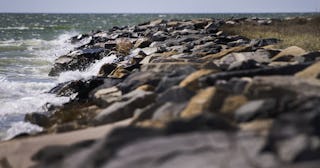 Jim Watson/Getty Images
You can choose the wilderness, the history, or the beach in Chesapeake, Virginia. You can also choose a freshly fried basket of hush puppies. Located along the Intracoastal Waterway in the heart of coastal Virginia, Chesapeake is a city rich in history and nature. And hush puppies. Here are our suggestions for things to do in Chesapeake with kids.
Outdoor Activities in Chesapeake With Kids
Capture that magic moment at the start of your trip to Chesapeake with a visit to The LOVE Letters at Courtyard Square Park. You know, when your family all still likes each other before the inevitable squabbling? This is a great place for a family photo. Make sure to tag your photos with #PeakeLOVE and #LOVEVA. Say cheese or we're going home.
Chesapeake City Park gives your wild things 90 acres to run around in. Visit the family-favorite playground Fun Forest. Built on three acres, this is an all-ages, all-abilities, family-friendly playground. Not just for the toddler set, the playground keeps older kids moving as well with a dragon (no one yell "Dracarys," please) three-way underground telephone, shaky bridge, dolphin tunnel slide, and many more challenges.
Many of the attractions are handicapped accessible, with paved paths, slides, swings, picnic tables and benches to accommodate wheelchairs.
The name alone of The Dismal Swamp Canal Trail gives us the urge to put on a Morticia Addams-style dress and kayak by moonlight. And while legend has it Edgar Allen Poe wrote parts of "The Raven" here, it's actually quite peaceful and unspooky. Lots of easy trails for hiking, biking, and boating family adventures too. Wildlife spotting is easily guaranteed as well.
The Chesapeake Arboretum is headquartered in an 18th century farmhouse with theme gardens and meandering trails through an old hardwood forest. A walk through here is much more enjoyable than a wood flooring showroom.
Tell your kids to breathe deep in the fragrance garden. Especially by the calming lavender. Check out The Nature Academy in Nature's Classroom in the Peake Discovery Guide for all the fun and educational activities for kids.
The Chesapeake Planetarium is the very first planetarium that's part of the public school system. Translate that to FREE! While the public programs are free for families, this star-gazing experience is cozy. Reservations are required.
Kids Attractions in Chesapeake
The Children's Museum of Virginia in nearby Portsmouth will engage kids ages one through 11 using their imagination through some great exhibits filling the second floor. Don't miss their antique train collection and miniature town exhibit! Kids of all ages love trains and following the track through mini towns and farms.
The Beazley Planetarium is the best place for a stargazing timeout. A full dome experience surrounds your family with movies about the earth and the night sky. Check the showtimes and enjoy the peace of a planetarium. Try to keep one eye open at least. We know it's hard once your butt hits that soft chair and the lights go out.
About 40 minutes away in Virginia Beach, the Virginia Aquarium and Marine Science Center is one of the most impressive centers in the country. Sea turtles, harbor seals, komodo dragons, sharks, more sharks, and even more sharks. Check out the 3-D movie schedule for a breather from all the walking around this enormous place.
Make a really full day out of it with a visit to The Adventure Park. From "under the seas" to "up in the trees", bring your family climbing and zip-lining through majestic trees near the Virginia Aquarium & Marine Science Center's Marsh Pavilion. Sixteen trails connect between tree platforms with varying difficulty levels. Ages 5 and older can give self-respecting moms heart attacks for hours. Don't worry though. There are harnesses out the wazoo making this a safe and fun family activity.
The Nauticus is a contemporary museum in the natural setting of nearby Norfolk's harbor. Touch a shark, watch a 3-D movie and climb aboard a The USS Wisconsin battleship. Sounds like a perfect family afternoon to me! Their events calendar is filled with sailing activities and special events.
Are you all educated and hiked, biked, and sailed out? Just need some family quiet time to create an artistic mess that someone else will clean up? Then visit Glazenfyre Art Studio. Keep in mind that you won't bring your beautiful pottery home the same day. It takes a week for them to fire and glaze. Still a great family activity for locals in Chesapeake.
Best Restaurants in Chesapeake for Kids
The Egg Bistro in Chesapeake is not as simple as it sounds. It's a super cool atmosphere serving quality food and warm service. Let the kids color on the kids menu, while you order off the extensive day menu. The drink menu reads like a romance novel you just can't put down. It's all sounds soooooo good. Only open until 3 p.m. most days, we give you permission for some light daydrinking.
The Pirates Cove Restaurant is run by locals John and Becky Tillery. For the fish-loving family, you can stuff yourselves with quality fish and housemade hush puppies served by the dozen. Nightly specials, a very affordable by the bottle wine list, and outdoor patio make this a great choice for a family meal.
Burrito Perdido doesn't have a website. They're too busy making delicious fresh Mexican food. Check out their menu on their Facebook page. And the pictures…oh my… brisket and guacamole have never looked so beautiful.
You may want to sit down for this. In fact, sit your whole family down at Pop's Diner Co because for every adult entrée, an offspring (10 and under) will eat for FREE off the kids menu. Founded by two brothers in 2005 and named after their father they called "pops," they've been making him proud ever since. Uncomplicated and very family-friendly.
There's also a glorious homerun for family dining in Chesapeake. Any town with its own Cracker Barrel is the town for us.
Best Hotels For Families in Chesapeake
Hampton Inn & Suites Chesapeake is in a great location whether you're headed to the beach or to Colonial Williamsburg. Free hot breakfast every morning, an indoor pool for the kids, and an indoor hot tub for you, this is a great choice for the family.
Aloft Chesapeake by Marriot is a new super cool boutique hotel located near the Greenbrier Mall. There's a communal lounge, a snack bar, and a 24/7 pantry for those kid bribes. There's a small pool indoors and make some space in your luggage—the hotel toiletries are from Bliss Spa.
The Residence Inn in Chesapeake gives you the option of extended stay suites with kitchenettes. Some families just shouldn't eat in public.
Comfort Suites is close to the beach with a seasonal outdoor pool. Load up on the daily free breakfast and make some memories at this always family-friendly place to stay.
MORE: Cape May And Kids
Make Mile-High Memories In Denver
This article was originally published on