Things to Do in Colorado Springs With Kids
by Erica Landis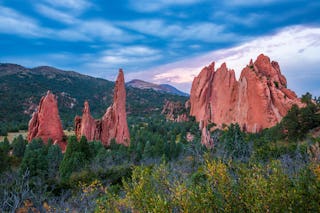 Deb Snelson/Getty Images
Colorado Springs, Colorado has so much more than to offer than just skiing and endless requests for hot chocolate. This town is known for its Native American roots, a rich mining history, and natural beauty. Plus there are plenty of things to do in Colorado Springs with kids.
Breathe in the clean mountain air to calm your mom anxiety and keep your kids entertained. It's a win-win. Here are our suggestions for best things to do in Colorado Springs with kids.
The Great Outdoors in Colorado Springs With Kids
Start big and beautiful with the majestic Garden of The Gods Park.
Cool rock formations with silly names like Kissing Camels will entertain your little ones while the beauty of this easily accessible family-friendly park will recharge everyone's drained batteries – the batteries of the kid's electronics and the batteries of our souls. Whether you choose to hike or bike one of the 21 miles of trails or opt for the sweet rides of the Segway, Jeep, or antique trolley tour.
Garden of the Gods Park is a great place to make those family memories. Bonus Point: If you do have to scream at your kids, there are less people to hear you than the usual family-friendly attraction. Nature is great that way.
Cheyenne Mountain Zoo is another great thing to do in Colorado Springs with kids. What sets this zoo apart? It's the country's only mountain zoo. Home to over 750 animals and over 170 species from all over the world, it was voted the sixth best zoo in the country. Plenty of interaction will keep this from being just another zoo, including hand-feeding the zoo's magnificent giraffe herd. Prepare for your visit by watching the strangely addictive giraffe cam on the zoo's website. Just an FYI, you may be late picking up the kids once you start. The zoo has plenty of other fun things to do for the kids like an antique carousel, a sky ride, and animal shows.
Get Wild At Bear Creek And Fountain Creek Nature Center. Remember that thrill of being in the wilderness on a school trip? But not so far in the wilderness that the bathroom wasn't close by? These two beloved nature centers will give your family that comfort. Combining two nature preserves, get a taste of the mountains and the marshlands in one visit. The planked path is perfect for small children.
If you still get excited at the prospect of a train ride (mainly for the opportunity to sit down) and will shout "choo choo" louder than anyone on that damn train, then the perfect place to bring your family is Cripple Creek & Victor Narrow Gauge Railroad.This 45-minute, four-mile round trip scenic train ride takes your family past many historic mines and ends near the deserted mining camp of Anaconda. Remember that Brady Bunch episode? If you're feeling dramatic, put on a Carol Brady pantsuit and really get in the spirit of a deserted mining town. Then explore the town of Cripple Creek where the whole family will have fun exploring tons of mining-era attractions like the jail museum and a roaming donkey herd!
Also in Cripple Creek, you'll find the Mollie Kathleen Gold Mine Tour. Descend 1000 feet down into the country's only vertical shaft gold mine tour. Any claustrophobia you may feel will be soothed by the fact that you'll leave the mine with a free gold ore sample! Nobody told me there'd be jewelry on this trip. Nice!
Tired of shouting "don't touch" at your kids? Well, at The Manitou Cliff Dwellings Museum you won't have to. Made up of 40 rooms, these Anasazi ruins are completely hands-on family fun. The ruins were relocated from McElmo Canyon in southeast Colorado over the course of three years beginning in 1904. This is a great place for the kids to burn off some energy and learn about this 1000 year old community.
Also in Manitou, don't miss The Cave Of The Winds Mountain Park. Start with the Discovery Tour if you've got little ones. But there's so much more to do with the whole family. The Magic Lantern virtual reality theater is so much fun for the whole family. There are age restrictions and guidelines on many of the tours so plan ahead to avoid crying kids and adults alike.
While the natural beauty and mining history of Colorado Springs is fun and fascinating, let's do a 180 degree turn to Santa's Workshop at The North Pole Amusement Park. With over 25 family friendly rides in addition to Santa himself, there's nothing like Christmastime anytime of year. Well, except from January to April when the park is closed.
Indoor Family Activities in Colorado Springs
While Colorado Springs has beautiful weather, you'll still need a few indoor options. Take the family to the May Natural History Museum. This museum is affectionally and accurately called "The Bug Museum," with over 7,000 species of beautiful butterflies, moths, bizarre beetles, giant spiders, and deadly scorpions. Bring your bug enthusiast kids as well as your not-so-enthused kids here. The museum's founder, James May, traveled the world finding over 100,000 fascinating specimens of bugs, insects, and creepy crawlies. Known as one of the world's largest and outstanding private collections of giant insects, the good news is they're all dead. That lowers the chances you'll go screaming from the museum at any point like you would at home.
The Ghost Town Museum offers an all-indoor immersive experience of the great Wild West cities of Colorado. Actual mining town structures have been brought inside the museum, where the town has been recreated. Hand-on activities like churning butter, antique arcade games, and panning for gold get the kids using their imagination.
Best Restaurants in Colorado Springs With Kids
Breakfast food is always is a safe bet to make the whole family happy. The Urban Egg Eatery offers all the classics like French toast, omelettes, pancakes, waffles, natural juices, and a little something called The Morning Buzz. A breakfast-themed drink menu for when you need to ease into the fourth day of awesome things to do in Colorado Springs with kids. Hey, I don't judge.
Pizzeria Rustica is a certified green restaurant. That means they leave the smallest carbon footprint in their business practices, serving local and organic wherever possible. This is a not your ordinary pizza place. But it's not so out there that the kids will be confused, leading to crankiness, and meltdown city. You know the drill.
Perhaps you have teenage boys in your family? Perhaps a husband who can pack it in? Perhaps you just enjoy eating your emotions after a fun but exhausting day filled with family activities? Then The Black Bear Diner is the place for you to eat with kids in Colorado Springs. Big portions of family favorites in a family friendly atmosphere. Get loud. Get emotional. Stuff your faces. Meet you there.
Crave Real Burgers is a Colorado landmark. Voted Best Burger time and time again, they have over 20 crazy gourmet burgers to choose from. Oh, and milkshakes. Lots of milkshakes. Want some real family bonding time? Enter a burger-eating contest while you're there. Family memories and belly aches for everyone!
Mountain Shadows Restaurant just sounds inviting, doesn't it? The menu boasts of "breakfast served all day" as well as "not breakfast also served all day." I think I want to live here. Bring your family here at least once when eating out with kids in Colorado Springs.
Best Resorts in Colorado Springs for Kids
Family-friendly hotels are an important part of any family vacation. You don't want to raise a ruckus at the ice machine or vending machines. You just want a clean place to rest your weary heads and bodies. Oh, and a pool and good cable channels.
Cheyenne Mountain Resort is top of the line. There's golf, restaurants, three swimming pools, and a beauty spa. Yes, I said SPA. This may not be the most practical choice for many. It's pricey but so worth it when you want to splurge on a family hotel in Colorado Springs.
The Timber Lodge is known as a top choice for family reunions. So this place is ideal to bring your entire family for a family-friendly stay while exploring Colorado. Rent a cabin and enjoy the parklike atmosphere of The Timber Lodge grounds. You know what they say…when in Colorado, pack your family in a cabin and go have a drink around back. Alone. Seriously though, this is a cool place to stay with kids in Colorado Springs.
Americas Best Value Inn Villa Hotel is a great way to save money on the hotel expenses but still get a good night's sleep. Ready for this? They even have a Kids Stay Free program. Check with the hotel for details.
MORE: Fun In Cincinnati With Kids
What To Do With Kids In Beautiful San Diego
This article was originally published on