Things to Do in Daytona Beach With Kids
by Evan Levy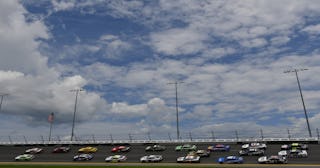 Jeff Curry/Getty Images
You may think Daytona Beach, Florida, is all about car-racing, but it practically screams "family-friendly" with miles of gorgeous beaches, tons of outdoor (and indoor) attractions, and lots of kid-friendly restaurants. Check out our suggestions, below, for best things to do in Daytona Beach with kids.
Best Restaurants in Daytona Beach for Kids
At Cheddars Scratch Kitchen, you can start with their signature honey butter croissants or homemade queso, and move on to favorites like homemade chicken pot pie. Lighter fare does exist, although you'll have to search for it. You can get a salad (blackened salmon, grilled chicken pecan) and kids have their own menu, with choices like pasta or chicken tenders. Cheddars also has a number of gluten-free options, and you should definitely sneak a peek at the dessert menu: check out the Painkiller mini cake, a coconut cake filled with rum butter sauce.
You have to like a restaurant that promises not to serve you a single sad lettuce leaf, and that also promises that carnivores and vegetarians can eat in harmony. At the Dancing Avocado Kitchen, breakfast brings a tofu scramble or a spam sandwich (yes, really) while lunchtime serves up burgers for the carnivores and "shareables" like guacamole, real or veggie chicken tenders, and a kale salad. The kale is "gently massaged." Please see if you can tell.
Kids get their own menu at Don Vito's Italian Restaurant (chicken tenders, mac-n-cheese, pasta, all for $4.95) but they'd be equally happy with the regular menu. Pizza's the main attraction, with toppings both expected (eggplant, mushrooms) and unexpected (steak, bacon, pineapple). You can also get pasta, seafood, and chicken or veal, but hey—there's pizza. Never a bad choice.
When in Daytona Beach, eat by the water whenever you can. The Ocean Deck Restaurant and Beach Club offers dining and music right by the waves. Go earlier in the evening if you're with kids. And kids are clearly welcome here—items on the kids menu are served ON A FRISBEE. Yes, they can take it home. Choices include Davey Jones' Hot Dog and Hook's Hamburger, but does it matter? They're on a Frisbee! Adults, you can choose from seafood like mahi mahi, grilled tuna, and crab legs. As far as we know they're served on a plate, but there are lots of fruity cocktails to compensate.
Steve's Famous Diner is the place to go when you just want a solid, reasonably priced meal. You can get omelets, hot cakes (pancakes to many of us) or Belgian waffles to start off your day, then move onto diner classics (all reasonably-priced) like meatloaf (Grandma would be so proud of you), an open-faced turkey sandwich, or a burger. (Kids can find many of these choices on the kids' menu.)
Family-Friendly Hotels in Daytona Beach
Located right on the beach, the Hilton Daytona Beach Oceanfront Resort is the place to go to be in the center of everything. The hotel offers a large heated pool, plus two separate children's pools. Kids can hang out in D-Dawg's Kidzone, a supervised area with arts and crafts, board and video games, and weekend pajama parties. Grownups: the hotel also offers a spa and fitness center—though if you're very lucky, your kids might let you help with some sand art in the kids zone.
The high-rise Wyndham Ocean Walk sits right on the beach, within walking distance of shops and restaurants (and the ocean). The hotel offers two indoor and two outdoor pools, plus baby pools and play areas for children, a Lazy River, a water slide, and a bar for adults. Pool, (the other kind) mini golf, a game room, and volleyball are also available for family fun—as is simply laying on the beach.
If you're looking for a beachfront hotel without all the frills, the recently renovated Best Western Plus Daytona Inn Seabreeze Oceanfront offers the location without the high price tag. It comes with an outdoor pool and a complimentary breakfast, and an exercise room (to work off breakfast, of course). Some of the rooms have ocean views, and some balconies, so be sure to ask.
The recently refurbished Perry's Ocean Edge has been around for 75 years, and one of the things they're still known for is their homemade donuts. There's an old-fashioned Florida vibe, enhanced by the on-site putting green and shuffleboard court. Enjoy the oceanfront lawn, the garden atrium with a heated pool, the complimentary breakfast, and the fitness center. Adults: there's a tiki bar!
The small (44 rooms), art deco Streamline Hotel dates back to 1940, when it was the haunt of celebs, moonshine gangsters, and race car drivers—believe it or not, it's actually where stock car racing and what became NASCAR was born. It recently underwent a compete renovation—it has an outdoor saltwater pool, a small fitness center, and for you adults, a rooftop bar with music and great views.
Family-Friendly Attractions in West Palm Beach
The Daytona Lagoon is a water park that has a lot to offer daredevils—it has features like a 5o-foot-high water slide, an inner-tube that propels riders up and then backwards over a 50-fooot drop, and a high-speed enclosed slide. For the rest of us, there's a lazy river and a water oasis for younger kids. It also offers an arcade, a climbing wall, mini golf, and laser tag, but you'll probably just find us in one of the cabanas, thanks.
Into every beach vacation a little culture must fall. Or, it might rain. If you need a dose of the first or an escape from the latter, that's the time to visit the Museum of Arts & Sciences. It offers a series of special exhibitions focusing on both art and science, as well as planetarium shows. You can also visit the Cici and Hyatt Brown Museum of Art, which showcases the largest collection of Florida-themed art in the world, and the Root Family Museum (they're all on the same campus), which focuses on Coca Cola memorabilia, as well as collections of Americana like teddy bears and train cars.
A tour of the Angell and Phelps Chocolate Factory sounds a little like Willy Wonka come to life. You can actually take a free 20-minute guided tour to see chocolate being made, after which free chocolate samples are given out. You can, of course, purchase chocolate as well, which you almost assuredly will do. Your kids will see to that. You can go for traditional boxed chocolates, or "molded novelties," like a chocolate gator, starfish, or flip-flop. Who wouldn't want a chocolate flip-flop
Right near Daytona Beach, the Ponce de Leon Inlet Lighthouse & Museum is exactly what it says—it's both a working lighthouse and a museum. You can go on your own or take a guided tour, and once a month there's an evening tour on the night of the full moon. Be warned—whenever you go, there are 203 steps to the top of the 175-foot tower. They also offer workshops and events throughout the year.
If practicing stunts and landing in a pit of soft foam cubes sounds like a perfect outing, welcome to the Sky Zone Trampoline Park. There's also a Ninja Warrior Course, Ultimate Dodgeball, for those who want to relive their middle school years, and Sky Hoops, a twist on arcade basketball. Check out Kid Glow—it's got lasers, music, and blacklight. There's also Toddler Time just for little ones' bouncing time.
Family-Friendly Outdoor Attractions in Daytona Beach
The Andy Romano Beachfront Park offers a four-acre park along the beach, making for an almost perfect day for kids. It's got a splash pad, picnic area, playground, and restrooms. Literally, what more could a child want? Yep, they have a concession stand. Cool fact: the park was designed in a collaborative process with the public.
Got a racing fan? Or a lover of cool cars? You have your choice of three Daytona International Speedway Track tours, ranging from 30-90 minutes. Depending on which tour you choose, you'll see the infield and the garages, pit road and media center. You'll end in the Motorsports Hall of Fame of America, with a look at the winning Daytona 500 car.
The Daytona Beach Boardwalk is the place to go for the kind of fun you think of when you hear the word "boardwalk." It's got arcades and pizza and a sweet shop, video games and skeeball—and many of the games actually cost a quarter, and there's the best deal your kids will get all year. Street performers and fireworks amuse guests during the summer months, and concerts frequently take place at the Bandshell.
With 40 aerial games and 10 ziplines, the Daytona Beach Zipline Adventure tests your dexterity and your courage. The courses get increasingly more adventurous (one route has 24 different elements). Note: some of the ziplines go up to 45 feet in the air and run up to 500 feet in length.
The Congo River Golf is designed to have golfers follow in the footsteps (not literally) of famed explorers Stanley and Livingstone. Along the way, golfing explorers encounter waterfalls, caves, rainforests, treasure hunts, and more. The "more" can include gator feedings (you feed them), gem mining, and an arcade. It's also open in the evenings.
You're in Daytona Beach…go to the beach! Ormond-by-the-Sea is the northernmost beach in the Daytona area, and features a quiet refuge with nearby parks. Daytona Beach has been nicknamed "the world's most famous beach"—you're in the middle of all the action, and there's a mile-long, pedestrian-only zone. And Daytona Beach Shores is the place to go for racing fans—it has a number of attractions commemorating the racing industry.
MORE: The Challenges Of Vacations With Kids
Confessions Of A Traveling Parent
This article was originally published on