Things To Do in Fort Wayne With Kids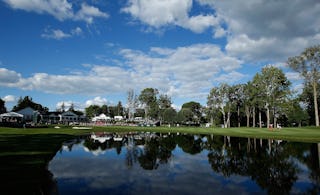 Gregory Shamus/Getty Images
Fort Wayne, Indiana, is a peaceful city to visit if you're looking for a quiet vacation with the family. You can check out the great art museum, eat at a local diner, and enjoy some time in nature in one of their many parks. Here are the best things to do in Fort Wayne with kids.
Kids Attractions in Fort Wayne, Indiana
Crazy Pinz Entertainment Center is one stop for almost every possible rainy day activity. You can hop between mini-golf (glow in the dark, too) the rock wall, laser tag, and bowling.
Fort Wayne Children's Zoo made it on to Trip Advisor's Top 10 Zoos in the US. Explore their international collection of animals in their African Journey, Australian Adventure, and Indonesian Rain Forest.
Bisque It Pottery lets you pick your own plates, mugs, and decorative statues to add your own unique spin. No appointment is required, and you can pick up your finished piece in about ten days.
Fort Wayne Museum of Art features a rotating collection of sketches, paintings, and sculptures. On Thursdays, the museum combines art and exercise by hosting a yoga class.
Best Restaurants in Fort Wayne, Indiana for Kids
Salvatori's Authentic Italian Eatery boasts an enormous menu stuffed with customizable pasta options. Don't forget to try their homemade breadsticks, which come with a choice of two dipping sauces.
Junk Ditch Brewing Company might be known for their alcoholic options, but they also serve up plenty of delicious dishes. From salads to wood-fired pizzas, this spot has comfort food that has been slightly elevated—like their Choco Taco with candied pecans.
BugerFi has plenty of veggie and even a vegan option if you are cutting down on meat. Kids meals all come with fries and a juice pouch.
Corners Kitchen + Bar has a kids menu that covers breakfast, lunch, and dinner options for young diners. Entrees for any meal come with fancy sides like quinoa pilaf and honey yogurt.
The Bluebird Restaurant believes "customers are our family" and they're ready to treat their family to good food and pithy messages on their marquee sign. Their kids menu includes a Mickey Mouse pancake with a whimsical whipped cream smile.
Sweet Monster is known for its creatively-decorated ice cream tacos. Top your creation with cookies, candy, or even a slice of bacon.
Best Hotels in Fort Wayne, Indiana for Kids
Courtyard Fort Wayne Downtown at Grand Wayne Convention Center is elegantly decorated, but not too fussy. The hotel features a gym and a pool, but the best amenity might be the shuttle to and from the airport.
Hyatt Place Fort Wayne is a pet-friendly hotel that boasts an impressive kitchen that's open all day and all night. Your transportation options are open when you stay—you can take advantage of the free shuttle from the airport, or the free parking.
Residence Inn Fort Wayne has on-site laundry, meaning you don't have to worry about how messy your daily adventures get, even if you packed light. The hotel features an indoor pool and outdoor picnic areas.
Comfort Suites North offers complimentary breakfast and free Wi-Fi with each reservation. Suites that feature a two-person hot tub are also available.
Outdoor Activities in Fort Wayne for Kids
Earth Adventures Unlimited has a bouldering gym if you want to stay indoors, but their main focus is on getting you outdoors. Rent a canoe or kayak to explore the local rivers.
Foellinger-Freimann Botanical Conservatory has a beautiful, and diverse collection of flowers and other plants for you to enjoy. Check out cacti in the Desert Garden, or enjoy something lusher in the Tropical Garden.
Parkview Family Park boasts an impressive playground that has features to make it open to children of all abilities. After checking out the playscape, visitors can take the walking trail or relax in the gazebo.
Mengerson Nature Reserve is the perfect spot for a quiet hike. The trail is easy enough for beginners and the youngest hikers and goes on for a little over a mile.
Bookstores in Fort Wayne, Indiana for Kids
Hyde Brothers Booksellers stocks plenty of used and beloved kids books. They're also home to a few lovable (and book-loving) cats.
Books Comics & Things is the perfect spot for any young Marvel or DC fan. In addition to their comics catalog, they also carry a large number of table top games.
MORE: Must-See Family Attractions in New Orleans
The Best Things To Do With Kids in Arlington, TX
Family Vacation Ideas For Mesa, AZ
This article was originally published on