Things To Do in Fort Worth With Kids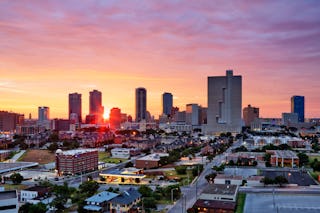 Jeremy Woodhouse/Getty Images
Traveling with family to Fort Worth? This Texas city offers a wealth of attractions and best places to see, plus convenient places to stay. Check out our suggestions for the top things to do in Fort Worth with kids!
Best Attractions for Kids in Fort Worth, Texas
The cabins in Log Cabin Village are actual, authentic log cabins, not replicas. They date back to the 1800s and were moved to the current site to help preserve a part of Texas' history—each one shows a different part of pioneer life. Look for the "historical interpreters"—otherwise known as the people in costume who depict the lives of the folks who lived there.
The Fort Worth Museum of Science and History has a great motto: history never gets old. The museum has a smorgasbord of exhibits from a DinoLab and a dino dig to a children's museum and an exhibit on the cattle industry making it a great thing to do in Fort Worth with kids. For weather aficionados, there's Tornado Alley and energy Blast.
All aboard—the Forest Park Miniature Railroad offers five miles of sheer delight for train fans. First open 60 years ago, the miniature train chugs its way across six bridges, goes underneath the highway, and ends up in Trinity Park. The full ride takes 40 minutes, leaving you plenty of time to ride it again. The original ticket price was 35 cents, but it's still a good deal at $5 for a kids ticket and one of the best things to do in Fort Worth with kids.
The National Cowgirl Museum and Hall of Fame honors women who helped shape the American West. It has interactive exhibits, two theaters, a gift shop, and a library. Honorees have included writer Laura Ingalls Wider, artist Georgia O'Keeffe, and Supreme Court Justice Sandra Day O'Connor. And save money for that gift shop—nothing says Texas like a Cowgirl Hall of Fame t-shirt.
Come for the art, stay for the play space. The Kimball Art Museum offers a collection that is small but mighty, with works by artists including Matisse, Goya and Rembrandt, as well as antiquities, and art from Asia, the Ancient Americas, and Africa. They also have a great selection of family guides for kids, as well as a "please touch" playroom for children 5 and under, which is how you know it's a great thing to do in Fort Worth with kids.
Best Hotels for Families in Fort Worth, Texas
A free hot breakfast and a stellar location make the Hampton Inn & Suites Ft. Worth Downtown a good choice for families. Adding to the appeal: a heated indoor pool, a fitness center, and an outdoor fire pit. And the onsite market is open 24 hours a day, something not to be overestimated when traveling with kids.
If you're looking for a hotel that's a cut above, the high-rise Omni Ft. Worth offers a location right in downtown Fort Worth, plus a spa, heated outdoor pool, and the Omni Kids Crew—a program tailored just for the youngest guests that may include such amenities as a backpack filled with fun supplies and activities, and milk and cookies delivered to their room.
Complimentary beverages and breakfast can be a big draw for families, and the Embassy Suites by Hilton Ft. Worth Downtown offers both. There's also a laundry and a snack shop, plus every room is a two-room suite. Grab that complimentary toast and settle in.
With a pool and fitness center, the Courtyard Ft Worth University Drive offers good on-site amenities. If you need a latte to start your day, you can purchase Starbucks beverages. For eating options, you can bring sandwiches to the picnic area or dine at the onsite restaurant, The Bistro. There's also a theater lounge (OK, it's a big TV), plus an on-site market.
Though the name may be a mouthful, the price won't be hard to swallow at the La Quinta Inn & Suites by Wyndham Eastchase. Along with reasonable prices, you'll find an outdoor pool and a gym, plus laundry facilities and a late-check out if needed. And they're pet-friendly!
Best Restaurants for Families in Fort Worth
The 'Ol South Pancake House is not the place to go if you have decided on a light salad. It is, however the place to go if you want to eat every kind of pancake that has ever been invented, and some that haven't. Try a Dutch Baby with powdered sugar and lemon juice, or build your own with pretty much anything you like. Want peanut butter chips? Bananas? Spiced apples? They've got 'em. Breakfast is served 24/7.
At Taste Community Restaurant, you won't find prices on the menu—because there aren't any. This is a pay-what-you-can venture, so everyone can partake. The sophisticated menu changes seasonally, and might include s shrimp poke bowl, a BLT, or Asian shrimp noodles. A kids menu is also available. Good food, great concept, and a great teachable moment.
Enchiladas Ole is the kind of restaurant where everything is made fresh. You can order classic enchiladas, or ones with brisket or even curried chicken and sesame seeds. Vegetarian and light options are also on the menu, plus there's a kids menu. They also offer tacos, burritos, and tostadas. Check out the family packs, and for the pickiest eater in the family, they also have burgers.
It's Texas, so barbecue must be had. Pork chop? Pulled pork? Jerky? Ribeye? Cooper's Old Time Pit Barbecue has it all. The meat is cooked over mesquite coals and served right from the pit (hence the name). Classic sides include potato salad, coleslaw, and mac-n-cheese. Save room for one of the many kinds of cobbler for dessert.
There are the tacos you serve for taco Tuesday and then there are Velvet Tacos, which feature fillings inspired by global flavors. You can try spicy tikka chicken with basmati rice and raita crema; a taco with pork, ham, bacon and cheese; and even a brunch taco where the "taco" is made from a waffle.
Best Outdoor Activities for Families in Fort Worth
Designed by renowned architect Philip Johnson, the Fort Worth Water Gardens is not so much a garden as an architectural marvel. The urban oasis offers a number of water features, including three pools aerating, quiet and active (a terraced area used by waders). It's a good pit stop if you need a quick breather from rushing around but still a great thing to do in Fort Worth with kids.
The Ft. Worth Stockyard Stables features the kinds of activities that will make you feel like you're really in Texas. You can go on a trail ride or an arena ride, or opt to let someone else do the work and take a stagecoach or carriage ride. Or if you're just there for the photos, take one of a family member on a Texas Longhorn—or perhaps at the petting zoo.
At the Agave Hurricane Trail Company, you can go one a trail ride regardless of your experience. You'll be happy (relieved?) to know the ride is determined by the experience level of the rider with the lowest level of experience, so you can rest easy. This is a must-see thing to do in Fort Worth with kids.
Who doesn't love a duck pond? You'll find one in Trinity Park, which also offers playgrounds and good hiking and biking trails. Check out the fishing as well as the picnic pavilions, and see if any large-scale events are being offered.
The first thing you should know about the Ft. Worth Botanical Gardens—aside from their beauty—is that much of the access is free. Many different garden areas are featured, ranging from a Japanese garden to a Native Texas boardwalk to the Trial Garden. If you're envisioning a judge in a flower costume, it's actually where new varieties of perennials are tested.
History in Fort Worth
Known for its history in the cattle ranching industry, Ft. Worth offers a number of ways to explore this side of the city.
Make sure you visit the Fort Worth Stockyards National Historic District and stop by the Stockyard Visitor Center or Stockyard Museum for a look at the city's ties to the cattle industry.
Sundance is a privately-owned enclave in the downtown historic area. In addition to shopping and dining, check out the Sid Richardson Museum with its collection of works of art by Western artists.
More: 8 Hotels With Free Kids Clubs So You Can Have Fun Too
Navigating Life As A Traveling, Working Mom
What We Learned On Our Rainy Summer Vacation
This article was originally published on