Things to Do in Greensboro With Kids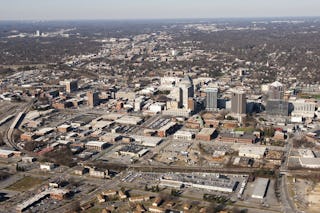 Lance King/Getty Images
Heading to North Carolina? From beautiful gardens to a large children's museum, Greensboro has plenty of family-friendly attractions. It also has a place on the map for its Civil Rights movement history. Here are a few things to do in Greensboro with kids.
Family-Friendly Attractions in Greensboro
There are many attractions to visit if you take a trip to Greensboro. The Greensboro Children's Museum is a great option because it offers creative opportunities for kids. They will love playing with water in the Water Wonders station and serving up their own pizzas at the Pizza Pan station. Similarly, your family will love exploring the Greensboro Science Center. It's an aquarium and zoo all in one!
Teach everyone important history, specifically about the Greensboro sit-in, in which African American students sat at a segregated restaurant counter, by bringing them to the International Civil Rights Center & Museum. Children 5 and under get free admission.
Furthermore, Bumper Jumpers is a fun indoor activity for a rainy day.
Family-Friendly Hotels in Greensboro
There are a ton of budget-friendly hotel options in Greensboro. Most are kid-friendly. The Hampton Inn & Suites Greensboro/Coliseum Area is close to most attractions. The Hilton Garden Inn Greensboro is a great place to stay because it has bonuses including a children's menu and a playpen.
If you are planning to go to a baseball game or the Greensboro Children's Museum, you might want to stay at the Greensboro Marriott Downtown, because it's steps away from both. Another option is the Holiday Inn Greensboro Coliseum which is close to the airport.
Best Family-Friendly Restaurants in Greensboro
https://www.instagram.com/p/BxOnkpnHDCn/
There are plenty of great food options in Greensboro, with menu items that will please the entire family. If you're craving southern comfort food, you have to try Dames Chicken and Waffles. The Carolina Cockerel is a favorite —three wings, a blueberry waffle, peach and apricot schmear.
The Big Burger Spot has a kids menu for a bargain price, along with some of the best burgers in the city.
Above all, you have to have dinner at Darryl's Wood Fired Grill. It has an eclectic vibe, with fun activities for kids. They can dress up as a firefighter or get a mug shot taken in jail room. It also has some of the best ribs in Greensboro, NC. Craving something sweet that isn't Southern sweet tea? Try chocolate swirl cheesecake at Cheesecakes by Alex.
Outdoor Activities in Greensboro for Kids
Looking to cool off in summer heat? Bring your family to Wet 'n' Wild Emerald Pointe, the largest waterpark in both of the Carolinas. If swimming isn't your thing, but sports are, you can easily get tickets to a Greensboro Grasshoppers Game.
You can also plan an educational trip to the Guilford Courthouse, home to one of the biggest battles of the Revolutionary War.
Celebration Station has many classic attractions including arcade games, bumper boats and mini golf.
Best Nature Spots in Greensboro for Kids
There is gorgeous nature to see in Greensboro. The Bog Garden's 7 acres of wetlands are fun to explore, while you can plan a full day of activities at Lake Brandt, a huge reservoir. Or wander around the Greensboro Arboretum, which is free and open-year round. It has 14 different plant collections.
MORE: Best Spots to Visit in Philadelphia With Family
Things to Do in Pittsburgh with Kids
Things to Do in Memphis with Kids
This article was originally published on