Top Things to Do in Henderson With Kids
by Amanda Svachula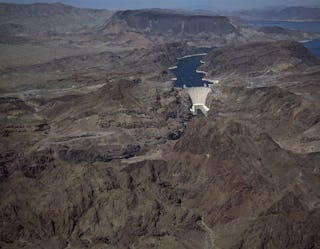 Buyenlarge/Getty Images
Located right near Las Vegas, there are many fun things to do with kids in Henderson, Nevada, a laidback, suburban family-friendly alternative to the casinos and parties. Here are the top things to do in Henderson with kids.
Kid-Friendly Attractions in Henderson, NV
Steps away from Las Vegas, there are many things to do with family in Henderson, NV. First of all, you should visit Shan-gri-la Prehistoric Park because your family will love the dinosaur statues. The park is open until midnight.
For a break from the heat, head to the trampolines at Bouncy World.
Ethel M. Chocolates is a Chocolate Factory that offers tours. Interestingly enough, it also has Nevada's largest Botanical Cactus Garden. Another attraction is the Clark County Museum, where you can learn about Nevadan history on its 30-acre site.
Family-Friendly Restaurants in Henderson, NV
There are many restaurants in Henderson, NV, with everything from Italian to Mexican food. Most note-worthy, Lucille's Smokehouse Bar-b-que has an extensive kid's menu with options including Finger Licken' BBQ Ribs and Lil Chicken Corn Dogs. Another great dinner option is BRAVO Cucina Italiana.
The Black Bear Diner has a woodsy vibe and is a great option for a casual breakfast pitstop. Juan's Flaming Fajitas & Cantina is a fun dinner spot. It has a kids Carne Asada. Also, your family will love watching the fajitas come out of the kitchen on fire.
Family-Friendly Hotels in Henderson
Away from the casinos in Las Vegas, you can find family-friendly hotels in Henderson, NV. The Comfort Inn & Suites Henderson is a great option with a big outdoor pool.
The Green Valley Ranch Resort and Spa has a place for hourly children's entertainment, through Kids Quest. Your family will also love the sandy beach onsite. Fiesta Entertainment says it takes "family fun" seriously, and has activities for the whole family.
Outdoor Activities in Henderson, NV
Facing high temperatures? Definitely bring everyone to Cowabunga Bay, a huge family-friendly waterpark your kids will love. Another outdoor attraction is the Hoover Dam. Take a tour to learn more about the huge structure.
Above all, you have to go to the Lion Habitat Ranch, a lion sanctuary in Henderson, NV. You can pay to feed the animals, including the favorite Ozzie the giraffe, by the pound. Similarly, you can view more animals at the Henderson Bird Viewing Preserve.
Best Parks in Henderson, NV
There are plenty of great parks for children to play in in Henderson, NV, many with long trails and stunning views of the mountains. Cornerstone Park has a 31-acre lake and large pavilions for picnicking.
Reunion Trails Park has a splash pad and other activities for kids. Another great option is Mission Hills Park, which has a large open grassy area.
Above all, you should visit Anthem Hills Park. It is 53 acres, and has gorgeous views.
MORE: Things To Do in Seattle with Kids
Things To Do In Surfside Florida With Kids
Top Things to Do in Tulsa With Kids
This article was originally published on